Warhammer 40,000, Age of Sigmar and Blood Bowl are all getting new board games
Blitz Bowl: Season 2, Space Marine Adventures and Crypt Hunters releasing later this year.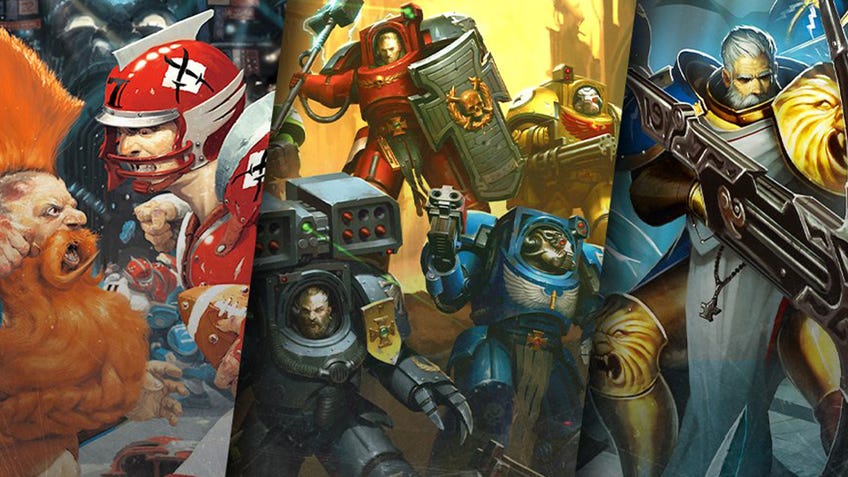 Three new Warhammer board games are releasing later this year, spanning the universe of Games Workshop's fantasy and sci-fi miniatures games.
Warhammer 40,000's 2018 co-op spin-off Space Marine Adventures: Labyrinth of the Necrons, which saw players commanding a group of Space Marines as they traversed the maze in search of the Necron Overlord, is getting a sequel with a new shade of green in this year's Rise of the Orks.
Space Marine Adventures: Rise of the Orks puts players in control of a squad of Space Marine Terminators, who must defend a shield generator from waves of attacking orks.
The game plays with up to five people, including a single-player mode, and takes around half an hour for a single playthrough. Each character has unique skills and weapons at their disposal, and the plastic models are from Warhammer 40,000's Space Marine Heroes range of unique named figures - meaning they can be used in full 40k matches.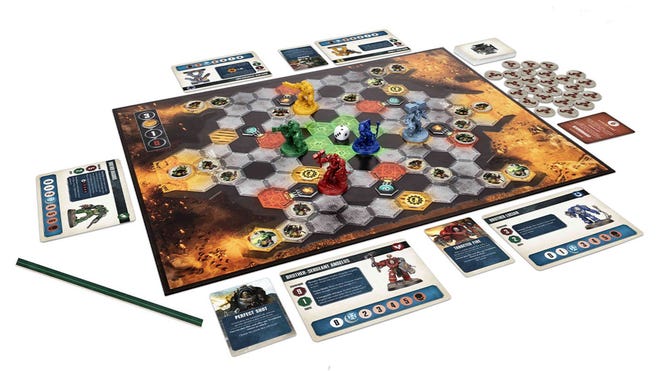 Warhammer's fantasy game Age of Sigmar is getting its own dungeon-crawler in the form of Crypt Hunters.
Starring Age of Sigmar cover stars a party of Stormcast Eternals, including Gryph-hound companion Valiant, as they seek an ancient relic in the labyrinthine Ten Thousand Tombs. Standing (or floating, probably) in their way are Chainrasps, ghost-like Nighthaunt controlled by the game.
Crypt Hunters is a competitive two-player game, with each player controlling either the Stormcast Eternals or the Chainrasps using a unique deck of cards and custom dice. The Chainrasps players also creates the labyrinth from a set of modular hex tiles, which the Stormcast Eternals must explore in search of the Hyshian Illuminator artefact.
The game can be played in standalone half-hour sessions or as a campaign, with the option to introduce burdens for additional challenges.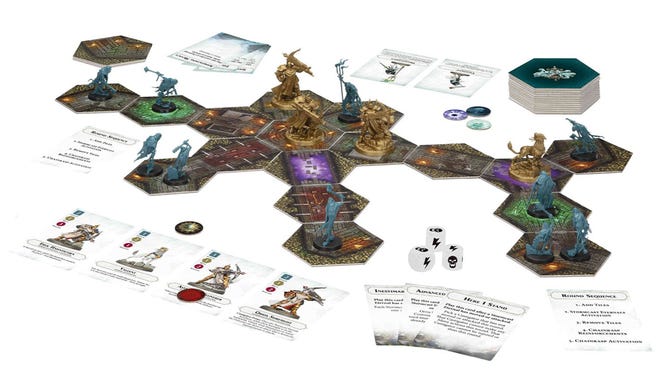 As with Rise of the Orks, Crypt Hunters includes plastic Stormcast Eternal and Chainrasp push-fit miniatures that are identical to their Age of Sigmar counterparts, meaning they can be used in full battles of the wargame.
The third game on the way is a new edition of Blitz Bowl, the spin-off board game based on Warhammer spin-off sports miniatures game Blood Bowl.
Blitz Bowl: Season 2 features improved rules, along with human and dwarf teams for the two players to put against each other on the pitch. The game plays like a compact version of its full-sized sibling, with the players competing to score goals and injure their opponents using smaller teams, simplified rules and in under an hour for each match.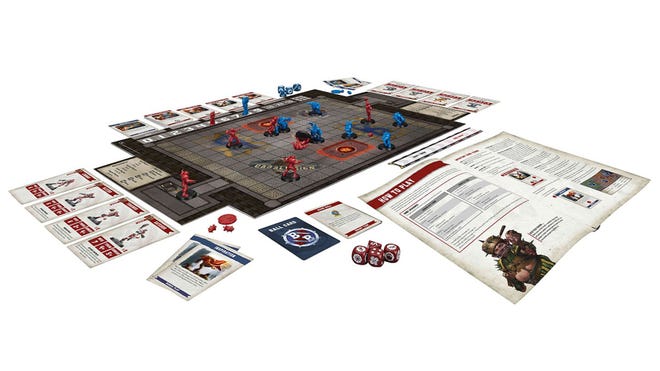 Season 2 includes push-fit miniatures for a human blitzer, thrower and catcher, plus a troll slayer, blitzer and runner on the dwarf side. Each team also include models for three linemen. A double-sided pitch board is included, with different gameplay elements depending on the environment used.
The game's announcement follows the recent reveal of a Second Season Edition of Blood Bowl, due for release later in 2020.
Space Marine Adventures: Rise of the Orks, Crypt Hunters and Blitz Bowl: Season 2 will all be released later this year, with price details yet to be announced. Games Workshop announced that the games will be exclusive to Barnes & Noble in the US, with Rise of the Orks exclusive to video game retailer Game in the UK. In Germany, they'll be sold in Thalia Bücher GmbH and Mayersche Buchhandlung, followed by GameStop Germany later in the year.