Funko Games announce Back to the Future: Back in Time board game, coming this year
Blast from the past.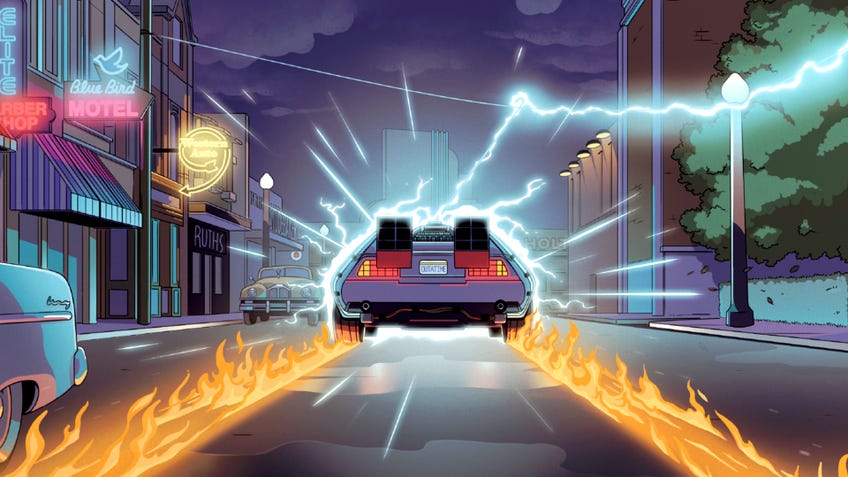 Jump in the DeLorean with Doc to defeat Biff Tannen in the newly announced board game, Back to the Future: Back in Time.
A co-op board game for two to four players, Back to the Future sees players working together to save the McFly family's future by travelling to their past. With the option to play as Marty McFly, Doc Brown, Jennifer Parker or Einstein the Dog, players will have to explore a 1955 version of Hill Valley on a quest to defeat Biff and get Marty's parents together.
Biff and his cronies are making trouble in Hill Valley, George and Lorraine - Marty's parents - are separated from one another and Doc Brown's DeLorean is broken. To win Back to the Future, players must defeat Biff, reunite Marty's parents, repair the DeLorean and speed to the clock tower before 10:04 pm - or otherwise risk being stuck in the past forever.
If the players successfully fulfill all the requirements to save the future and escape the past, then they are declared victorious.
The designer behind Back to the Future is Prospero Hall, the creator of Disney Villainous, horror board game Horrified and the recently announced Wonder Woman: Challenge of the Amazons.
Back to the Future is being published by Funko Games, the company responsible for the Funkoverse Strategy Game series - a franchise that includes titles based on universes such as Harry Potter and DC Batman.
Another Back to the Future based board game coming out this year is Back to the Future: Dice Through Time, which is being designed by Ken Franklin, Chris Leder and Kevin Rodgers and will be published by Ravensburger. (The company behind the recently announced Marvel Villainous board game.)
Back to the Future: Back in Time is set to be released sometime in Q3 of 2020.