Junk Art designers team up for social deduction board game MIND MGMT, based on the comic book
A game of 'psychic espionage'.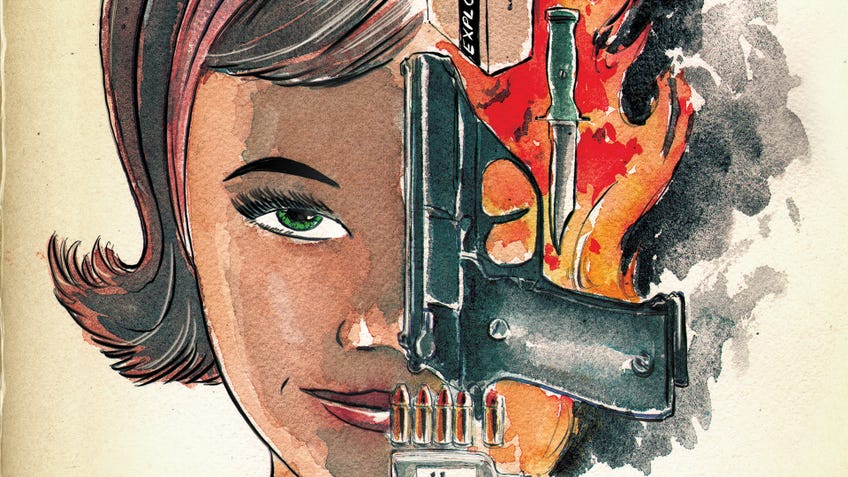 Form your very own secret society of psychic spies or interrogate your friends to expose their plots in social deduction board game MIND MGMT.
Designed by Jay Cormier and Sen-Foong Lim, who previously worked together on dexterity board game Junk Art and party game Dungeons & Dragons: Rock Paper Wizard, MIND MGMT is based on the comic book series of the same name and has players assuming the roles of either MIND MGMT spies or rogue agents.
Described as a "psychic espionage game", MIND MGMT sees players facing off against one another in a secret war between the secretive government agency and a group of civilians determined to reveal the truth.
A game for two to five players MIND MGMT is controlled by a single person who must covertly move across the board and recruit new powerful psychics to their cause. Whereas the rogue agents (i.e. everyone else) must attempt to track MIND MGMT's movements and figure out their location before it's too late.
Finding MIND MGMT won't be an easy feat, as the player in control moves across a secret board that only they can see and has units called Immortals that can protect certain locations from the other players' sights. As such, the rogue agents will have to ask MIND MGMT's master manipulator whether they have visited a location that shares features with the one they are currently hiding on. Using this information and the clues gained through 'step blocks' - an action where the MIND MGMT player has to confirm whether they have been on that same location - rogue agents will attempt to capture MIND MGMT.
Should the rogue agents land on the same location as MIND MGMT then they claim the victory. They'll have to do it quickly, as the longer the rogue agents take the more time MIND MGMT has to recruit enough spies to win or make it to 15 turns without being caught.
MIND MGMT also includes a SHIFT system that's designed to balance the game by allowing the losing team to open a package which, in a similar fashion to legacy games, contains additional components, cards and rules to help them next time.
The original comic book series was created by Matt Kindt and published by Dark Horse Comics in 2012. MIND MGMT follows the story of Meru, a true crime writer who discovers the existence of a hidden government agency that recruit individuals with psychic abilities.
Set to be the very first release from newly-founded publisher Off the Page Games, MIND MGMT will hit Kickstarter in March 2020.
Edit: This news story previously stated that MIND MGMT is being published by Off the Wall Games. The company's name is Off the Page Games. This has been corrected.