Locke & Key: Shadow of a Doubt is an upcoming card game based on the comic book turned Netflix series
Hell to play.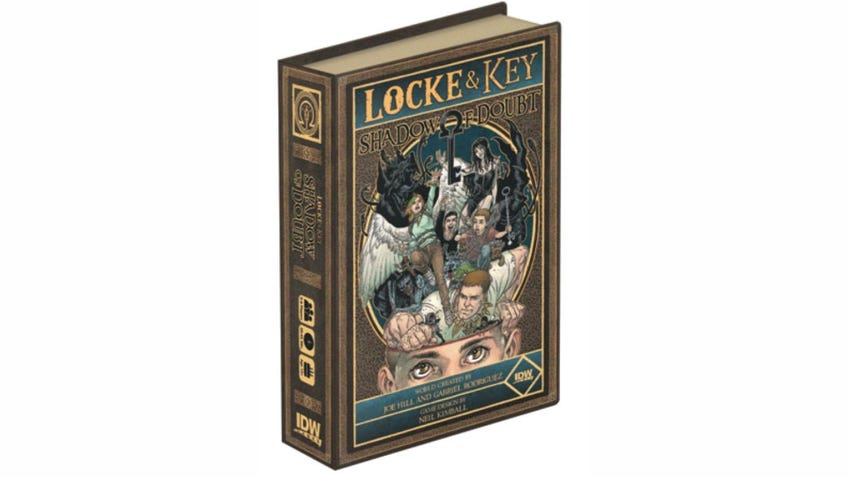 Discover the secrets of the Keyhouse and protect the mortal world from demons in an upcoming card game based on graphic novel turned Netflix series Locke & Key.
Set in the same universe as the comic and television series, Locke & Key: Shadow of a Doubt is a social deduction adventure card game for three to six players. In Shadow of a Doubt, players are tasked with exploring the mysterious setting of the Keyhouse by unlocking its various doors and venturing within its rooms.
As players uncover new locations they'll gain the opportunity to learn abilities to use against the various monsters stalking the mansion's halls.
However, players will have to be careful as one of the group is a hidden demon who has their own nefarious goals to fulfill. Should the player's real identity be discovered before the game's end then the other players win - otherwise the traitor may very well become victorious.
The designer behind Shadow of a Doubt is Neil Kimball, with this being the creator's debut board game release.
IDW Games - the company behind kids board game Sonic The Hedgehog: Crash Course, Teenage Mutant Ninja Turtles Adventures and the recently announced Batman: The Animated Series - Shadow of the Bat board game - will be publishing Shadow of a Doubt as part of its series of tabletop comic book adaptions.
Locke & Key is a series of comic books written by Joe Hill and illustrated by Gabriel Rodríguez that follow the adventures of a group of teenagers who discover an enormous house filled with locked doors that lead to the Plains of Leng - distant realms populated by scores of demons.
The series was recently adapted into a Netflix show starring Darby Stanchfield and Connor Jessup, which sees a family move into the Keyhouse after the death of its previous owner.
According to US distributor GTS, the release date for Locke & Key: Shadow of a Doubt is sometime in March 2020, at a retail price of $19.99 (£15).