Tabletop Simulator rival Tabletop Playground promises better options for creators and niche game types
With the potential to come to consoles and mobile in the future.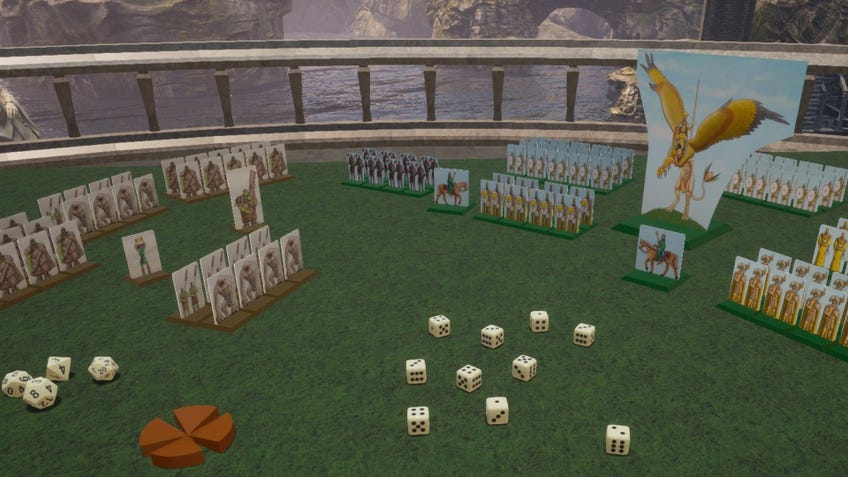 A new digital tabletop sandbox has been announced that claims to offer a wider selection of modding tools and other features than the popular PC toolbox Tabletop Simulator.
Released in June 2015, Tabletop Simulator is a PC app in which players can recreate entire board games - including some of the best board games of recent years, such as Scythe - by adding components, cards, miniatures and more into a virtual sandbox. Players can interact with the board and pieces as they would when playing a physical copy, and share their creations online. The digital sandbox also boasts support for virtual reality, as well as an option to flip the table should players ever feel inclined.
The upcoming Tabletop Playground is a similar virtual toolbox in which players can create and interact with a variety of tabletop game components in a 3D environment. Up to eight people can play the same game online, with virtual reality an option.
What sets Tabletop Playground apart from Tabletop Simulator, its creators claim, is expanded support for creators making custom games in the app's built-in editor. Whereas Tabletop Simulator's community-made creations are limited to Steam Workshop - the community marketplace that's part of PC storefront Steam - Tabletop Playground will supposedly allow more open creation and sharing of mods through cross-platform service Mod.io.
Tabletop Playground is additionally touted by publisher Modularity Games as making "niche" game genres, such as miniatures games, "more accessible" to play than Tabletop Simulator. Options such as tracking movement history for miniatures, allowing miniatures to be snapped together into grouped formations, the ability to measure angles and a log of dice rolls were all mentioned as features present in Tabletop Playground that are absent from Tabletop Simulator.
The app is claimed to feature improved graphics, more realistic physics and more responsive controls than Tabletop Simulator, as the result of being built on a different framework, Unreal Engine 4.
Due to Mod.io's cross-platform support, Modularity suggested that Tabletop Playground and any community-made content could be brought to video game consoles and mobile devices in the future, though didn't confirm any current plans to do so.
Modularity Games is yet to announce any partnerships with official tabletop publishers or creators, with an initial focus on encouraging users to create custom mods and games for the sandbox. The publisher is currently running an early access creator's programme aimed at getting Tabletop Simulator creators on board.
"We're currently focused on continuing to add easy to use features and tools to TP to empower our community to create their own mods/games and modify classic titles into new, unique experiences," a representative of the company told Dicebreaker.
"In the future, through using mod.io players may be able to sell officially endorsed content (or entirely new creations) to the community, empowering them even further to create new content, that players across every platform and storefront will be able to enjoy."
Tabletop Playground is being developed by Plasticity Studios and will be the company's debut release. Tabletop Playground is due to release on PC in Q2 2020.