Deadpool quips his way into Unmatched miniatures board game
For "April Pool's Day."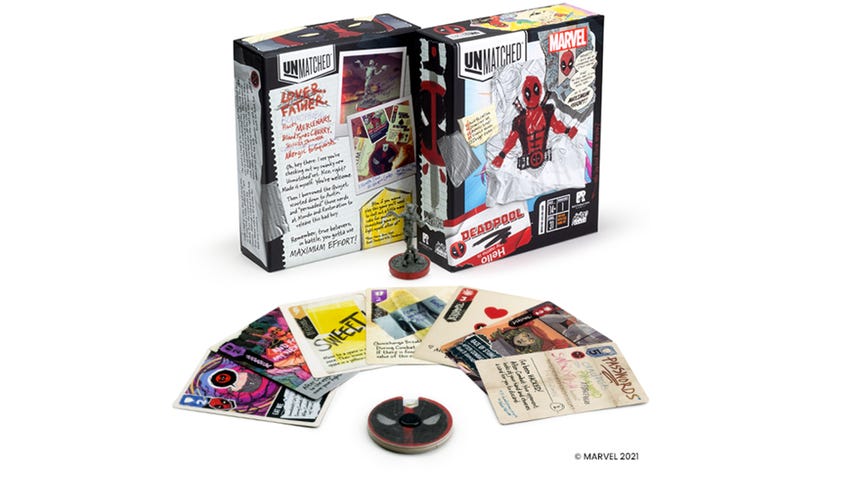 The merc with a mouth, comic book character Deadpool, is swaggering into the Unmatched series in an upcoming board game expansion.
Revealed today - on what publisher Restoration Games called "April Pool's Day," - Unmatched: Deadpool is an expansion featuring the popular foulmouthed antihero.
Originally appearing in The New Mutant series of comics in the early '90s, Deadpool gradually evolved from a sinister villain into the more cartoonish character he is now known as. A mercenary with the ability to recover from almost any injury, Deadpool has since appeared in several films - including the 2016 movie Deadpool, starring Ryan Reynolds, and its sequel in 2018 - as well as multiple video games such as the Marvel vs. Capcom series and his own title released in 2013.
Restoration Games has not unveiled many details about the expansion beyond that it will feature a single hero, Deadpool, and will be compatible with any existing release in the Unmatched series.
Unmatched sees players taking control of famous fictional and historical characters in a skirmish battle involving a board and decks of cards. The first entry in the series - Unmatched: Battle of Legends, Volume One - featured the likes of legendary explorer Sinbad, Alice of Wonderland, Medusa and King Arthur, with each character coming with their own miniature and unique deck. During the game, players use the cards within their character's deck to move them across the board and engage with the enemy.
Depending on which character they're controlling, players will have access to different abilities - such as Alice's power to change her size or wield her vorpal blade - which they must utilise against their opponents in order to defeat them, before they are taken down themselves.
Unmatched: Deadpool was co-created by Rob Daviau, the co-designer of the Pandemic Legacy series and horror board game Cthulhu: Death May Die, and Justin D. Jacobson - who have both previously worked on Unmatched: Battle of Legends, Volume One and racing game Downforce.
Besides the Unmatched series, Restoration Games is also known for publishing the family friendly title Fireball Island: The Curse of Vul-Kar and this year's revival game, Return to Dark Tower.
The reveal of Unmatched: Deapool follows the recent announcement that Yennenga, a Ghanaian warrior princess from the 14th century, would be a character featured in the upcoming release of Unmatched: Battle of Legends, Volume Two. It has not yet been confirmed who will be joining Yennenga in the game, nor when it will be released.
Unmatched: Deadpool is set to be released in July 2021 for a retail price of $18 (£13).