Get both The Expanse RPG and Modern Age for just over $30 on Bundle of Holding
A delightful duo.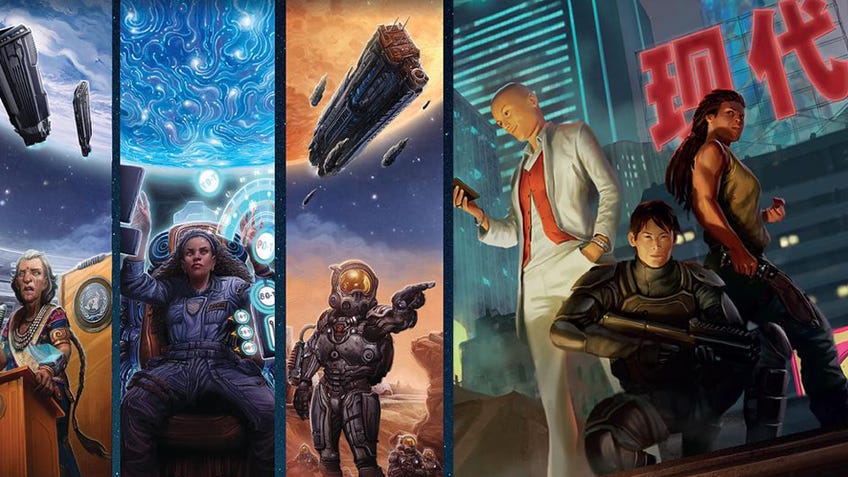 Two roleplaying games from publisher Green Ronin - Modern Age and The Expanse RPG - are now available for just over $30 in a new Bundle of Holding deal.
Featured as ebook collections with additional companion materials, Modern Age and The Expanse RPG are currently on sale as part of a Bundle of Holding package. In a similar fashion to many Humble Indie Bundles, by paying a certain amount customers can gain access to different tiers of content. In this case, for $19.95 (£14.73) buyers can get their hands on the PDF of the Basic Rulebook for Modern Age, alongside a companion book and additional extras including a Game Master's Kit and more missions.
By paying at least $30.80 (£22.74) customers can additionally access the PDF version of The Expanse RPG rulebook, alongside additional materials for the sci-fi roleplaying game, such as a Game Master's Kit and multiple adventure ebooks, as well as the aforementioned Modern Age products.
Modern Age is a roleplaying game system without a specific setting, meaning that the GM can design and run a session or campaign in whatever world they want. The RPG has a classless character creation system - thereby enabling players to make characters without having to adhere to certain thematic restrictions - as well as a set of rules that allow players to advance their players through 20 levels.
The Expanse RPG is built on top of the Modern Age system and is adapted from the series of science-fiction novels written by James S. A. Corey, which have since been turned into an Amazon Prime television series starring Shohreh Aghdashloo, Steven Strait and Thomas Jane. In the roleplaying game, players become space explorers who travel across the galaxy in search of answers and the chance of a new start for humanity.
As well as Modern Age and The Expanse RPG, Green Ronin are responsible for publishing the fantasy roleplaying games The Lost Citadel, Blue Rose and Dragon Age RPG, as well as superhero-inspired RPG Mutants & Masterminds.
The Modern Age & Expanse RPG Bundle of Holding deal is live until January 5th 2021, with 10% of all proceeds going to the pandemic-related charity Direct Relief.