Trans Witches are Witches bundle supports LGBTQ+ indies with a very nice collection of 69 magical school RPGs and more
Get dozens of titles for the same price as a video game.
A new bundle of indie RPGs and video games will give you dozens of games set in magical schools for a relative fraction of their usual price, as well as helping support LGBTQ+ indie creators.
The Trans Witches are Witches bundle gathers together a very nice 69 games from over 50 LGBTQ+ creators, spanning tabletop RPGs and physical games, video games, zines, music, and other creations.
Among the tabletop highlights is Chris Longhurst's delightful RPG Pigsmoke, which puts players in the shoes of teachers tasked with teaching unruly students, publishing research, dealing with auditors and attempting to avoid simply burning out at America's magical school.
There's also the cheekily-titled Basic Witches, which designer Alicia Furness describes as "a game of teen femmes casting spells with pumpkin spice lattes and making sigils with liquid lipstick to hex high school sexual predators and ace exams".
Speaking of fantastic game titles, Muscle Wizard Gets the Job Done! Turns Grant Howitt's crime-bear one-pager Honey Heist into a part-journalling RPG that asks its one or more players to solve problems by going Full Muscle or Full Wizard.
Elsewhere, there's Hipólita's 'unabashedly queer' magical academy RPG Cantrip, inspired by the likes of Little Witch Academia and Kiki's Delivery Service, and TOMBS: Toot on my balls skeleton, a collection of minigames about skeletons who are, yes, down to bone. (Except they've forgotten how to.)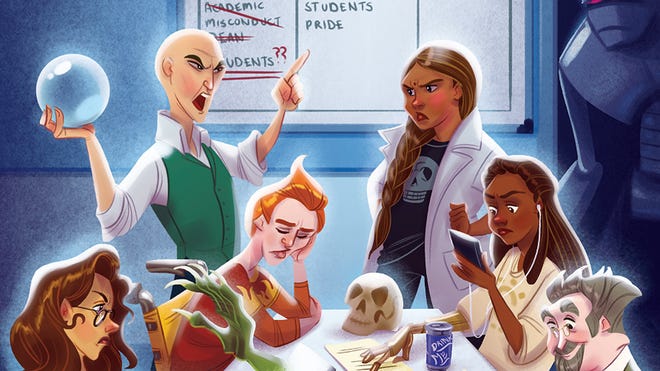 Alongside the full games, the bundle includes supplements and assets for both playing and making games, including Rose Frye's pixellated digital tarot Arcade Arcanum and What does your magic look like?, a set of roll tables for randomly generating magical effects.
That's barely scratching the surface of the collection, which ranges from powerfully emotional explorations of community, belonging and self-discovery through to chaotic wizard battle royales and a shape-shifting kitty who will eat you unless you solve a mystery.
Usually, the whole lot would cost you over $300 to pick up. The Itch.io bundle offers everything for $60 - less than a dollar per game. For comparison's sake, that's about the same price as a modern video game, say.
An Apprentice Edition of the bundle available for financially and otherwise marginalised players includes 66 of the titles for $10.
The Trans Witches are Witches bundle will be available until February 24th, with proceeds split evenly between its contributors.