Play Dobble, Dixit and Just One over video call using free remote play guides
As well as Sherlock Holmes: Consulting Detective.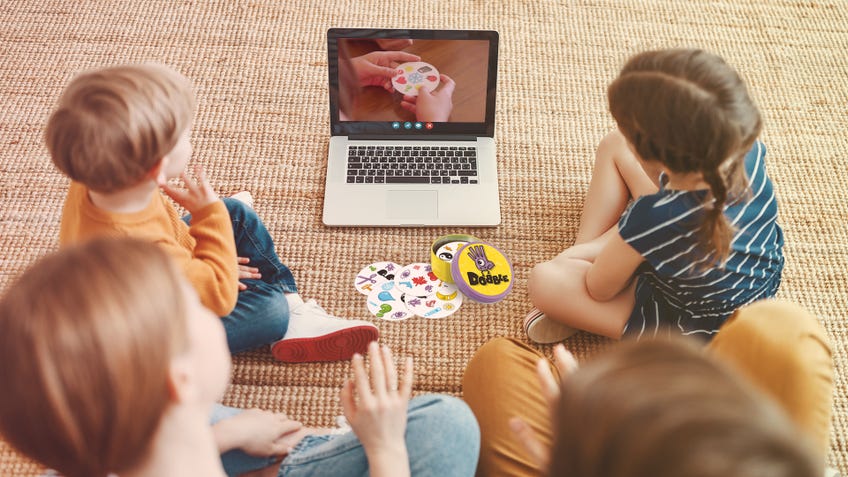 A set of guides designed to teach players how to play board games including Dobble and Dixit remotely has been released for free.
The collection of remote play guides are part of a Connect & Play initiative launched by board game publisher Asmodee, which looks to help players enjoy a selection of family games using video calling tools such as Zoom and Google Meet. Each step-by-step guide lists what a group of players needs in order to play - such as a copy of the game, access to a smartphone or computer, and a video calling service - and instructions on how to run the game remotely.
For example, playing Dixit remotely sees the storyteller collecting cards from whoever might be physically next to them, mixing those with their own choice and revealing the cards to the other players via the camera. All the other players then vote on the cards as normal. Players can create their own voting tokens to select a number or simply use the fingers of their hand to designate their chosen number.
Besides Dixit, the Connect & Play collection also includes kids' board game, Dobble. (Known as Spot it! in the US.) Usually, Dobble sees players attempting to physically slap two cards with matching symbols shown on them. The remote version provides three possible options for players to try, including a Dobble E-Tower, Survivor Dobble and Dobble: The Game Show.
Last year's party board game, Just One, is also included. Each player needs their own copy of the game and takes it in turns to be the game master - meaning that they draw the 13 cards needed for each game and keep track of points. Detective-themed co-op series Sherlock Holmes: Consulting Detective, is featured in the initiative too, with a group of players needing one copy of any of the games in the series in order to play. Whichever player has the game takes the role of the narrator.
Asmodee is the company that owns several publishers including Days of Wonder - the studio behind the Ticket to Ride series and this year's Small World of Warcraft - Pandemic publisher Z-Man Games and Fantasy Flight Games, the studio responsible for the Arkham Horror Files franchise and unique deck game Keyforge.
The Connect & Play initiative follows the Print & Play project launched by Asmodee earlier this year, in which the company provided free print-and-play versions of several of its games, including Dixit and Dobble.
Players can download the Connect & Play remote play guides for free from the website right now, with some of the games requiring multiple copies to play over the internet.