Zombicide and Cthulhu: Death May Die are being turned into graphic novels
First run of CMON comics.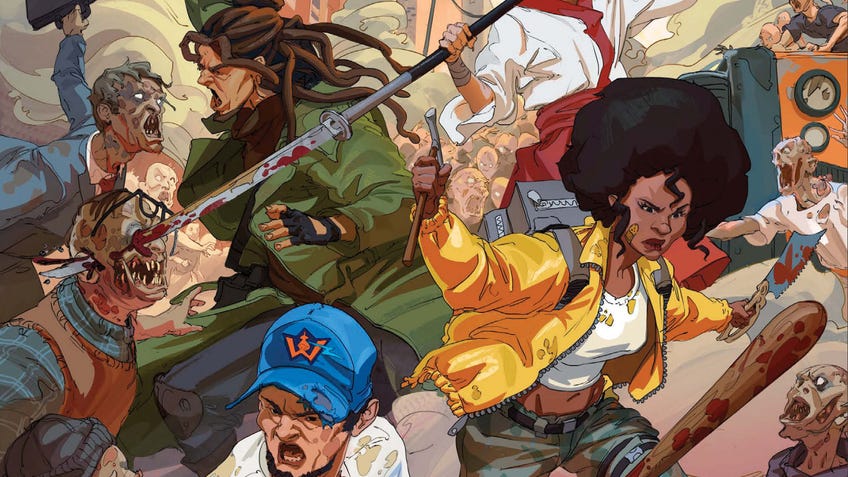 Horror board game Zombicide, its sci-fi spin-off Zombicide: Invader and Lovecraftian co-op game Cthulhu: Death May Die are getting graphic novel adaptations in a new run of comic books from publisher CMON.
The first volume of CMON comics includes Zombicide: Day One, Cthulhu: Death May Die - Fight or Flight and Zombicide: Invader - Dead Contact, a trio of hardback graphic novels set in the respective universes of the tabletop games.
Zombicide: Day One follows Ned, a survivor of the zombie apocalypse who must try and reach a safe shelter along with his companions by crossing the undead-infested city. The story has been penned by Spider-Man and TMNT comic writer Stefano Vietti, with artwork from illustrators Alessio Moroni and Marco Itri.
Fight or Flight takes place in the classic Lovecraftian locale of Miskatonic County. A group of heroes must try and save The Last Hope Orphanage from encroaching horrors by retrieving a magical book before everything is doomed. The adaptation of Cthulhu: Death May Die has been authored by Luca Enoch - who, along with Vietti, is behind the long-running comic Dragonero - pencilled by Riccardo Crosa, known for his illustration of card games including Aye, Dark Overlord, and inked by Simone Paolini.
Zombicide: Invader - Dead Contact sees a group of survivors - led by the Space Marine-esque Captain Harrison Kane - fighting to escape a prison ship full of the deadly alien Xenos. The comic book based on the sci-fi Zombicide spin-off is also written by Vietti, with artwork by Giancarlo Olivares.
Day One and Dead Contact come in at 128 pages long, while Fight or Flight is 132 pages.
As well as the hardback books, the CMON Comics Kickstarter includes promos for each of the games unlocked as stretch goals. So far, additional characters - including miniatures and cards - for Zombicide, Cthulhu: Death May Die and Zombicide: Invader have been revealed.
The CMON Comics Kickstarter campaign runs until June 5th. A single graphic novel is $30 (£25), which also includes the promos for that game. The entire trio of books can be had for $75 (£61). The books and promos are expected to arrive with backers in February 2021.
Although the campaign's description as 'Volume One' of CMON Comics hints at future graphic novels to come, additional titles in the series are yet to be announced.