The Dicebreaker merchandise store is open now, featuring two new T-shirt designs!
BE NICE ROLL DICE and show off your BIG DECK ENERGY.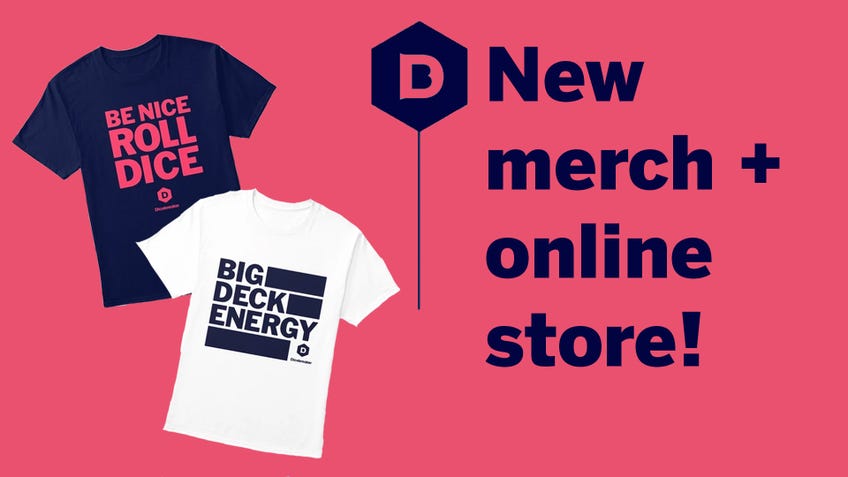 We're excited to announce that Dicebreaker has swung open the digital doors to its brand new online merchandise store, where you can now find two swanky new T-shirt designs - with more Dicebreaker merch on the way very soon.
Head over to the Dicebreaker merch store to pick up two fashionable shirts created by the team and emblazoned with slogans that let people know you have a delightful personality, sense of humour, dashing sense of fashion and a love of tabletop games at a single glance. They don't just look great, they're highly efficient.
Pop the BE NICE ROLL DICE shirt on your bod to scatter positive vibes like a handful of d20s, bringing the world together under the combined banners of friendliness, inclusivity and enjoying whatever dice-based game you prefer, be it Dungeons & Dragons, King of Tokyo or backgammons - all things we stand for here at Dicebreaker.
More of a card fan? (Little bit of card-based wordplay for you there.) Well, good news friend, because we've got a shirt design you'll want to pick up like the latest booster pack. Our second new tee makes a bold statement about your BIG DECK ENERGY - which is obviously a completely innocuous term used when playing Magic: The Gathering, TCGs and other card games and bears absolutely no relation to any other phrases you might've seen on the internet.
You'll find both new designs over on the new online Dicebreaker merchandise store, where they can be had for the low price of £20.
In the coming weeks we'll be adding plenty more to the merch store, starting with the return of two fan-favourite Dicebreaker shirts previously only available at conventions. The WOOD FOR SHEEP? (which you can see Lolies, Matt and Meehan modelling below) and Luck Be A Lady tees will be available to buy online soon - follow Dicebreaker on social media @joindicebreaker and visit this very website to find out when they go live.
We've also got some BRAND NEW merchandise in the works set to land on the store in the weeks and months to come, including new T-shirt designs and some very exciting Dicebreaker merch you really won't want to miss. Watch this space to be the first to see what's coming up.
In the meantime, head over to the Dicebreaker online merch store to pick up the two new T-shirts, which you can see the Dicebreaker team rocking in our amusing (we think so anyway) promo vid.