Arkham Horror, Android and Keyforge are getting board game art books
First tabletop gaming art books from Dark Horse.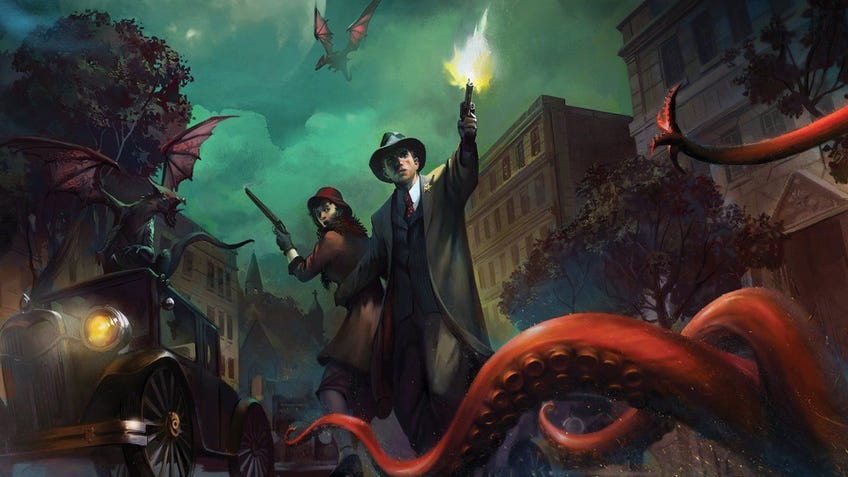 Board game studio Fantasy Flight Games and comic book publisher Dark Horse are teaming up for art books delving into three major tabletop universes: Arkham Horror, Android and Keyforge.
The upcoming board game art books will feature brand new production artwork being released for the first time, along with commentary from Fantasy Flight, which publishes all three series.
Arkham Horror Files is the horror board game universe that includes games such as Mansions of Madness, Arkham Horror (and its living card game spin-off), Eldritch Horror and Elder Sign. Inspired by the Cthulhu mythos of HP Lovecraft, the series began life as a spin-off from horror tabletop RPG Call of Cthulhu in the original Arkham Horror board game, before becoming its own standalone setting with a recurring cast of investigators.
Android is a sci-fi world best known as the setting for the living card game reboot of Android: Netrunner - originally set in the universe of tabletop RPG Cyberpunk 2020 - before the card game was brought to an end in 2018. The Android universe debuted in the board game of the same name, and has since gone on to include board games such as New Angeles and Android: Mainframe - as well as being explored in the Shadow of the Beanstalk supplement for tabletop RPG Genesys.
Keyforge is the latest card game from Magic: The Gathering creator Richard Garfield - who also designed the original Netrunner. Dubbed the first 'unique deck game' by Fantasy Flight, Keyforge sees players compete to earn Æmber and forge keys using a deck of cards that is completely unique to them; every player in the world is said to have a different combination of cards, which can't be customised unlike building a Magic: The Gathering deck or other trading card games.
The Arkham Horror and Android worlds have previously been expanded by several spin-off novels, with the first Keyforge book, Keyforge: Tales from the Crucible, planned for release this summer. Further books based on board game series owned by Asmodee - the parent company of Fantasy Flight, among many other tabletop studios - including Pandemic, Descent: Journeys in the Dark and Legend of the Five Rings, are due to land later in 2020 thanks to the company's new-founded Aconyte book division.
Dark Horse is the publisher behind comics including The Umbrella Academy, as well as licensed comics based on Aliens, Stranger Things and more. The company also makes a variety of art books and tie-ins for other movie, TV show and video game series; the Fantasy Flight art books will be its first tabletop game books.
The first product in the Arkham Horror, Android and Keyforge art books series is due for release towards the end of 2020 or in early 2021.