Sub Terra and Alba picked up by Magnate publisher as embattled UK board game studio Inside the Box closes its doors
Inside the Box Board Games to liquidate, with all assets acquired by Naylor Games, following claims of unpaid staff and missing pensions earlier this year.
The rights to co-op board game series Sub Terra and ambitious gamebook Alba have been acquired by UK publisher Naylor Games following the collapse of troubled tabletop studio Inside the Box Board Games.
Inside the Box was best known for its 2017 co-op Pandemic-meets-The-Descent board game Sub Terra, last year's sequel Sub Terra II: Inferno's Edge and experimental open-world gamebook Alba. Across eight successful Kickstarter campaigns, the UK publisher raised over £1.1m from tens of thousands of backers - more than 10,000 of whom crowdfunded Alba alone.
However, the studio ran into controversy at the start of this year after former staff hijacked Inside the Box's Kickstarter account to openly accuse CEO Peter Blenkharn of failing to pay them. In update posts and comments on the Kickstarter campaigns for Alba, Sub Terra II and narrative puzzle game Crypt X, ex-staff claimed that they were owed "thousands" in missing wages, pensions and redundancy.
Despite posting an update claiming that "progress has been made" on shipping and fulfilment for the projects - many of which were reportedly yet to arrive with Kickstarter backers - hours before the public accusations on January 28th, Blenkharn did not respond to the claims.
After a month of silence, Blenkharn announced on February 28th that Inside the Box was insolvent and in the process of liquidation, with the company's assets - including its IP and remaining stock of its games - to be sold off. Any money raised via the sale would first be used to pay back staff, before covering outstanding tax and other creditors. At the time, Blenkharn wrote that a sale was in the "final stages" of discussion with an unnamed buyer.
On March 31st, Inside the Box announced that all of its assets, including stock and intellectual property rights to games including Sub Terra and Alba, have been acquired by fellow independent UK board game publisher Naylor Games.
Naylor Games is best known for Magnate: The First City, its property-development strategy game that raised over $60,000 on Kickstarter in 2019. The studio is currently working on an untitled board game that's perhaps best described as "real-time Gloomhaven" and algebra card game 21X, both due to launch on Kickstarter this year.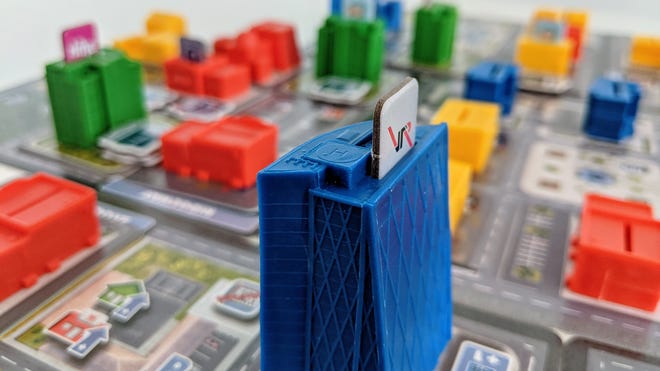 "It is with a heavy heart that I have to inform you that Inside the Box is going out of business. A few months ago we appointed an insolvency practitioner to see if the business could be saved, but it proved to be beyond rescue as a going concern," Blenkharn wrote in an email confirming the sale, directing followers to a sign-up for future updates. "All of its assets (including the intellectual property, stock etc) have been sold off. They have been purchased by Naylor Games Ltd, another UK boardgame company. ITB itself will be liquidated."
In response to a query about whether the company would fulfil outstanding Kickstarter pledges for Sub Terra II and other Inside the Box projects (via BoardGameGeek user Matthew Burgess), Naylor Games wrote: "There's going to be more news announced very soon. That's all I can say for now. Keep watching the email list and Kickstarter. My hands are tied and I can't say anything else right now, unfortunately."