Learn where to start with board games and play a Shakespeare CYOA book with us at EGX Digital!
Kicking off this Saturday.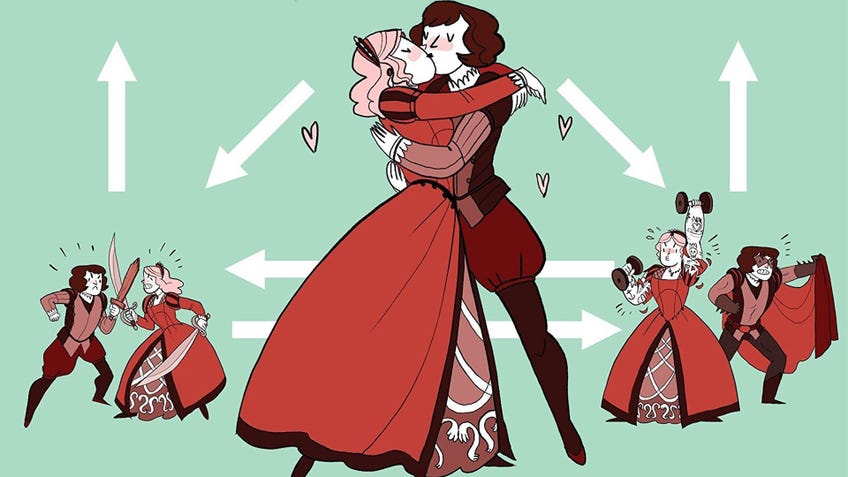 Gaming mega-event Pax Online x EGX Digital kicks off this weekend! We've already announced where you'll be able to watch us throughout the show on the PAX Online side of things - now it's time to reveal where Dicebreaker will be popping up throughout EGX Digital.
On Wednesday September 16th at 1pm BST, join the whole Dicebreaker team for a live Let's Play of Shakespearean choose-your-own-adventure gamebook Romeo And/Or Juliet by Ryan North.
Injecting some comedy - plus killer robots - into the classic play of star-crossed lovers, Romeo And/Or Juliet puts the action and outcome of the tale in the players' hands. In this case, that will be you, the audience, as you guide us down whatever tragic, comic or tragicomic (also see: robots) path you decide. We'll provide the acting, over-acting and narration, but you'll be in full control of what happens. (If you've seen our chaotic CYOA live-plays before, you'll have a good idea of the hilarity and hijinks in store.)
Then, on Friday September 18th at 4.15pm BST, Alex Lolies and I will be joined by special guests from around the tabletop scene to chat about why board games have never been better, the best games you should be playing - and where to start if you're relatively new to the hobby.
Joining us will be a stellar panel of experts including Eric Yurko of What's Eric Playing?, Miklos and Starla of Our Family Plays Games, Kareem - aka the Board Game Minimalist - and Amy Dickinson from The Game Shelf, who will offer their thoughts on the current golden age of tabletop, point out some hidden gems you might've missed and give their advice on what to play first if you're looking to go beyond Monopoly and Scrabble.
PAX Online x EGX Digital will be running between this Saturday, September 12th, and September 20th. Replacing the cancelled physical events for PAX West, PAX Australia and EGX, the virtual convention will be free to attend and feature nine days chock full of panels, talks, play sessions and more, as well as everything else you'd expect from attending the shows in person.
As well as our sessions as part of PAX Online, Dicebreaker will be playing Cyberpunk Red with co-designer Cody Pondsmith at 12pm PT (8pm BST) on September 12th, with Cyberpunk creator Mike Pondsmith opening the event the same day with a special talk about the long-running series, the new edition of the tabletop RPG and upcoming video game Cyberpunk 2077.
On Friday, September 18th at 11:15am PT (7:15pm BST), we'll be giving our own advice on how to run an amazing tabletop RPG session, joined by some special guests including RPG designers, star GMs and more.
The full PAX Online schedule includes plenty more tabletop sessions, as well as many more covering their digital counterparts in the world of video games. The full EGX Digital schedule will be announced very soon. You can find out more information about PAX Online x EGX Digital on the event website.
There'll also be a community Discord server and some exclusive merchandise available throughout both shows - including a very limited-edition Tim the Goblin Dungeonbreaker T-shirt!