Announcing the finalists for the Tabletop Awards 2023, this year's standout board games, RPGs and creators
The games you should be playing and the names you should be watching.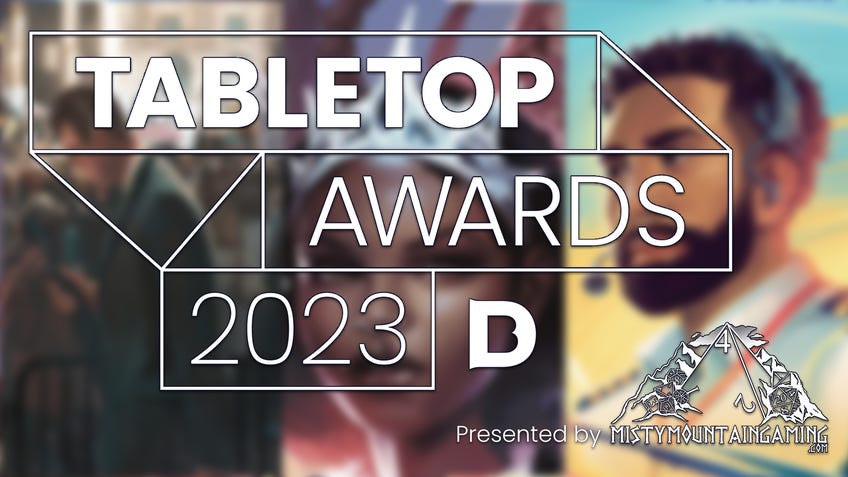 The votes are in! This year's finalists for the second annual Tabletop Awards have been decided by our panel of industry experts.
The shortlist representing the best games and creators from across the hobby will now be whittled down to determine a final winner in each category to be announced at the Tabletop Awards 2023, presented by Misty Mountain Gaming, due to take place at PAX Unplugged this December.
We were blown away by the hundreds of nominations submitted across our eight awards categories - including this year's new introduction of a prize for Best Art - demonstrating the sheer talent, diversity and innovation happening across board games, tabletop RPGs, card games and more in 2023. From ambitious cardboard blockbusters to lovingly crafted and tightly polished indie gems, the number of nominations and level of quality was incredibly high in every category - requiring a lot of thought and consideration from our panel.
The final winner in each category will be voted for by our panel of industry judges, made up of more than two dozen journalists, content creators, designers, artists and other prominent figures from across the tabletop space, spanning expertise in board games, RPGs, TCGs and more. You can see the full list of judges here.
In addition to the jury-voted categories, the Tabletop Awards include a People's Choice prize, which is voted for entirely by the public. Vote for this year's People's Choice award here. Voting will remain open until 00.00 GMT on Monday, November 27th.
The winners of the Tabletop Awards 2023, presented by Misty Mountain Gaming, will be revealed on-stage in the Main Theatre of the Pennsylvania Convention Center at 5pm ET on Saturday, December 2nd during this year's PAX Unplugged.
For those who can't make it to the show, the awards ceremony will also be livestreamed via the Dicebreaker YouTube channel and PAX's Twitch channel.
Congratulations to our finalists!
---
Tabletop Awards 2023 finalists
(Names are arranged in alphabetical order)
Best Board Game
Hegemony: Lead Your Class to Victory
Queen by Midnight
Sky Team
Best Roleplaying Game
Animon Story
Barkeep on the Borderlands
Blade Runner: The Roleplaying Game
Fabula Ultima
Fox Curio's Floating Bookshop
Ink
My Mother's Kitchen
This Discord Has Ghosts In It
Women Are Werewolves
Best Ongoing Card Game
Disney Lorcana: The First Chapter
Flesh and Blood: Bright Lights
Magic: The Gathering - The Lord of the Rings: Tales of Middle-earth
Pokémon Trading Card Game – Scarlet & Violet - 151
Best Art
Barkeep on the Borderlands
Flabbergasted!
Forever Home
Historica Arcanum: Herald of Rain
Queen by Midnight
Salvage Union
Sefirot
Designer of the Year
Brigitte Winter
David Thompson & Trevor Benjamin
John D. Clair
Vangelis Bagiartakis
Will Jobst
Publisher of the Year
9th Level Games
Good Luck Press
Osprey Games
Restoration Games
Snowbright Studio
Rising Star: Designer
Ash Azeez
Cassi Mothwin
DeAngelo Murillo
Fleur Sciortino & Chelsea Sciortino
Fleit Detrik
Lottie and Jack Hazell
Seb Pines
Sinta Posadas
Varnavas Timotheou
Rising Star: Publisher
Birdwood Games
Crossed Paths Press
Hegemonic Project Games
Hot Banana Games
Metis Creative
Prismatic Wasteland
The Wanderer's Tome