Apex Legends: The Board Game will bring the battle royale video game to the tabletop
From studio behind Frostpunk and Dying Light adaptations.
Battle royale shooter Apex Legends is the next video game hit to be headed to the tabletop, as an official board game prepares to launch on Kickstarter this spring.
Apex Legends: The Board Game condenses the video game's battle royale between up to 60 players - in squads of two or three - into a two to four-player team-based board game.
As in the video game, each player takes on the role of a unique character, known in-game as a 'legend', before dropping into a map and fighting to be the last team left standing. Each match of the board game is said to take around an hour to play.
Apex Legends: The Board Game publisher Glass Cannon Unplugged said that it had spent two years developing "an inspired new way to recreate the hero shooter experience at the game table" while bringing developer Respawn Entertainment's video game to the tabletop. The studio has previously adapted video games Frostpunk and Dying Light into board games, with co-founders Jakub Wiśniewski and Michał Ozon having also created sobering video game adaptation This War of Mine: The Board Game.
"The original game engine and innovative framework [...] authentically captures the voice and imagination of Apex Legends, bringing the stakes, thrills, and unforgettable kills of the hero shooter experience to life," Glass Cannon Unplugged said in a press release.
While specifics on how the upcoming board game will play are yet to be revealed, Glass Cannon Unplugged described Apex Legends: The Board Game as "not just a single game", but a gameplay system designed around an "innovative combat system" and "endless replayability".
The studio added that teams will need to switch up their tactics and work to outmanoeuvre their enemies, using their interchangeable team of legends and a limited supply of resources to their advantage. The studio described its system as "an accessible, easy-to-learn experience for new board gamers, balanced with a depth and scale to satisfy core players".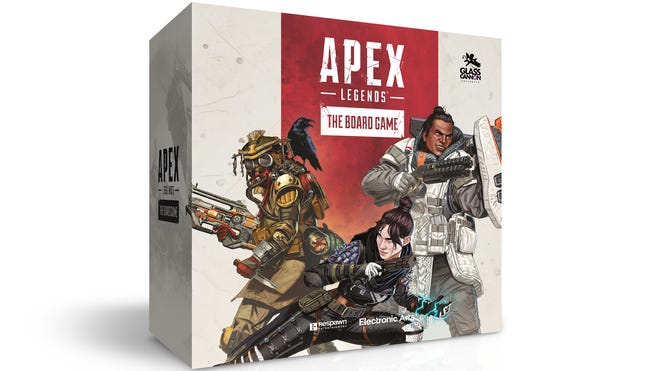 Matches will play out in three-dimensional environments based on the maps seen in the video game. Apex Legends has seen five battle royale maps released to date, with three typically available during each of the video game's rotating seasons; a further six maps appear in the tighter-knit Arena mode.
Four legends will be included in the board game's core set, with the starting roster being Bloodhound, Gibraltar, Wraith and Bangalore. Glass Cannon Unplugged teased that "many more" characters will follow in expansions and other "seasonal releases", alongside additional modular maps. Apex Legends' video game currently has 23 playable characters; it is unclear whether the board game will ultimately bring the entire roster across to the tabletop. As you'd expect, the characters will be represented on the table by miniatures.
Glass Cannon Unplugged said it has a "long roadmap" and "tournament and organised play in mind" for Apex Legends: The Board Game, hinting at future support for the board game's competitive scene. While the base game will play with up to four people, future expansions may increase the maximum player count.
A Kickstarter campaign for Apex Legends: The Board Game will launch on May 17th ahead of an unannounced release date.