Challengers 2 reveals a sequel to the capture-the-flag deckbuilder hot off its Kennerspiel des Jahres nomination
Standalone game will also work as an expansion for the original, with over 70 new characters.
Auto-battling, capture-the-flag deckbuilder Challengers is getting a follow-up that will serve as both a standalone sequel and an expansion to the freshly award-tipped board game.
Challengers was released last year as a mixture of deckbuilding card game á la Dominion, capture-the-flag battle (drawing from the outdoor game turned popular video game mode) and autobattler - where players assemble the strongest possible team before letting them automatically duke it out against their opponents - influenced by video games such as Dota Auto Chess and Teamfight Tactics.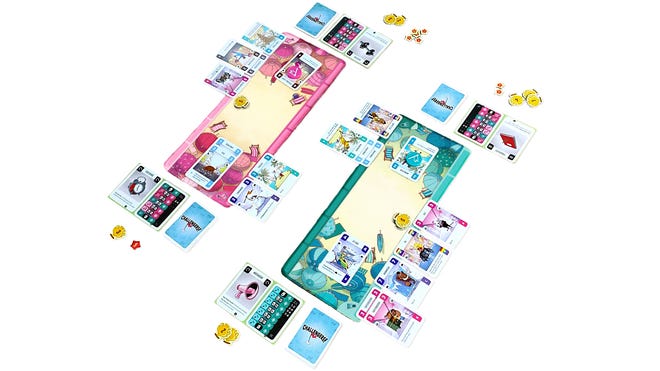 The game included dozens of different characters spanning eclectic genres from aliens, superheroes and sea monsters to cats, gangsters and dinosaurs, from which players would assemble their team before battling against their opponents to maintain control of a flag and earn the most 'fans' across seven rounds.
Designers Johannes Krenner and Markus Slawitscheck's inventive mash-up of gameplay ideas earned Challengers a nomination at this year's Kennerspiel des Jahres - the 'expert' prize at the prestigious German 'Game of the Year' awards, due to be announced this summer - as well as picking up an As d'Or at France's similarly lauded board game awards.
Hot off that awards success, publisher Z-Man Games has revealed Challengers 2, a direct sequel from the same designers that will add more than 70 new characters - including big bad wolves and frog princes from fairy tales, motorcycle-riding dogs, techy hackers and streamers, and ice cream trucks and surfers inspired by the game's seaside setting.
Challengers 2 also introduces 16 trainer cards, each with a unique power that will aid players in their fight for victory. Abilities include buffing players' attack or defence, or granting them the chance to rearrange their deck or extend their bench of characters.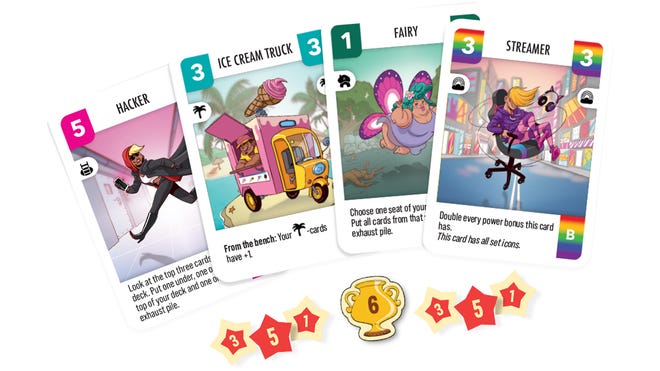 While the sequel will serve as a standalone game by itself playable by up to eight people (or by a single player in a solo variant), the new characters and trainers can also be combined with the original game to create a 'Giga Tournament' mode for up to 16 players. Regardless of player count, the game will take around half an hour to 45 minutes to play a full tournament, much like its predecessor.
Challengers 2 will be released at this year's Essen Spiel, with the German board game convention taking place from October 5th to 8th.