Grab the Conan RPG Player's Guide and character sheets for under £1
Enter the Hyborian Age.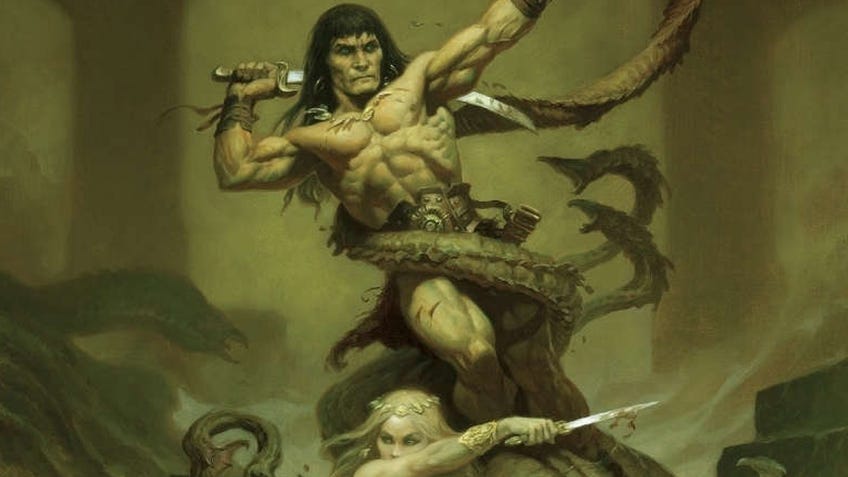 Begin an adventure in an age undreamed of by getting the Player's Guide and character sheets for the Conan RPG for under £1 in a new Humble Bundle.
A collection of books for the Conan roleplaying game - based on the classic fantasy stories written by Robert E. Howard - are available at discounted price as part of a Humble RPG Book Bundle.
Based on the 2d20 system found in other games created by published Modiphius, such as Dishonored: The Roleplaying Game and the John Carter RPG, Conan sees players travelling across a world inhabited by monsters, gods and magic. Players interested in the fantasy RPG can get their hands what they need to start playing in the bundle, as well as the books needed to run a game as GM and several adventures.
For 77p, players can acquire the Player's Guide for the tabletop roleplaying game - which contains information on how to make a character and lays out the rules for playing the game - alongside some character sheets for players to print out and create their player character with. The entry tier also provides access to a set of quickstart rules for the RPG and an adventure called The Pit of Kutallu, which was released as part of Free RPG Day in 2017 and has players venturing into an ancient ruin in the coastal jungles of the Black Kingdoms.
By paying £6.18, players can get everything included in the previous bundle as well as the core rulebook for the game - enabling the reader to run their own campaigns using information about the game's geography, cultures, religions and much more - and the Conan the Barbarian sourcebook, which contains information about the countries in the north and how to create characters from the region. This tier also includes an additional adventure in Jewelled Thrones of the Earth, which has players exploring a hidden city within a jungle and facing off against a demonic goddess on an isolated island.
The top tier, which requires £11.59 to access, contains everything featured within the previous tiers alongside a collection of sourcebooks that cover the various different lands found within the world of the Conan RPG and how to create characters from those regions. The collection includes Conan the Adventurer - a sourcebook containing information about the dangerous kingdoms to the south of the Styx River - Conan the King, a book featuring a guide to the courts Aquilonia and how to survive the schemes of the nobles there, and a sourcebook about the seedy underworld called Conan the Thief, amongst several others.
The Humble RPG Book Bundle for the Conan RPG is available until December 2nd, with the money from purchases going to a charity of the buyer's choice.