Cyberpunk Red RPG release date delayed after coronavirus 'gut punch'
"There's just no way we can release in June without compromising quality."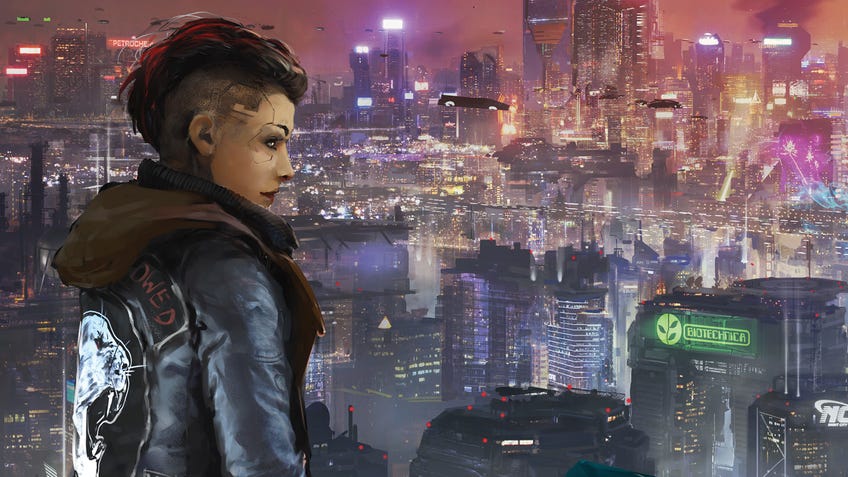 Cyberpunk Red, the latest edition of sci-fi tabletop RPG Cyberpunk 2020, has had its release date pushed back as the result of the COVID-19 pandemic, publisher R. Talsorian Games has announced.
Cyberpunk Red is the fourth edition of Mike Pondsmith's influential sci-fi tabletop RPG, first released in 1988. The roleplaying game's best-known release is its second edition, Cyberpunk 2020, with its latest major revision, V3.0, released in 2005.
Cyberpunk Red's Jumpstart Kit was released last August at Gen Con 2019, including a stripped-back set of the upcoming tabletop RPG's rules with the basics of how to play Cyberpunk Red, pre-made characters, a guide to Cyberpunk lore - including detail on Red's updated 2030s setting - and accessories such as dice.
The tabletop RPG's full core rulebook was originally due to launch alongside the boxed starter set, but was delayed to this summer in order to further tie the tabletop RPG into the upcoming video game based on the world, Cyberpunk 2077. Originally planned to release in April, Cyberpunk 2077's release date was itself postponed to September by developer CD Projekt Red.
"The lag to doing the full game came up partially because doing the Jumpstart Kit almost killed us; it was just insane doing it," Pondsmith previously told Dicebreaker. "Even more importantly, we wanted to make sure that the stuff in 2077 and stuff we developed in Red meshed, and there were things that hadn't been decided yet in 2077."
Now, Cyberpunk publisher R. Talsorian Games has announced that Cyberpunk Red's complete rulebook has also been pushed back from its tentative release date in June to a potential launch closer to this autumn.
The publisher had previously said it would delay the rulebook's release if more time was required to polish the full game. However, Cyberpunk Red's latest delay is due to the impact of the continuing coronavirus pandemic on the tabletop gaming industry, which has required Pondsmith and his co-designers to take more time to ensure the upcoming tabletop RPG's "quality".
"The TRPG industry got punched in the gut by the pandemic and there's just no way we can release in June without compromising quality," R. Talsorian Games wrote in a blog update.
"We're currently looking at summer's end for a release but until the world calms down and things stop fluctuating, our crystal ball is full of fog."
Dicebreaker was previously given an exclusive look at Cyberpunk Red's character creation and able to reveal the cover artwork for the upcoming tabletop RPG's rulebook. While you're waiting for the full game to arrive, you can still learn how to play Cyberpunk Red using the Jumpstart Kit rules - or watch the Dicebreaker team give a go for themselves.