Cyberpunk Red RPG has a release date and price, launching alongside Cyberpunk 2077
Following delay from summer.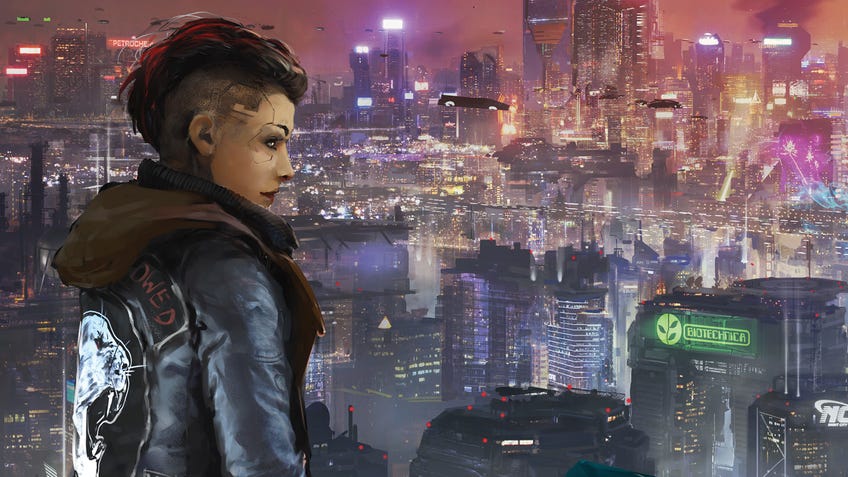 Cyberpunk Red, the latest edition of the seminal tabletop RPG, is releasing next month alongside its hotly-anticipated video game adaptation Cyberpunk 2077, publisher R. Talsorian Games has announced.
Cyberpunk Red was teased last August with the release of its Jumpstart Kit, a starter set which included a basic set of rules and pre-made characters to introduce players to the system and world. Earlier this year, we got to see the rulebook's cover artwork.
The full 456-page rulebook will feature expanded rules for gameplay elements such as netrunning - allowing characters to explore and hack in the virtual world - and character creation, with two additional ways to create characters on top of the 'Streetrat' templates seen in the Jumpstart Kit. Sara took an in-depth look at some of the new additions, including the character lifepaths available to players, earlier this year.
Cyberpunk Red advances the futuristic timeline and lore of previous editions of the RPG, including Cyberpunk 2020. While upcoming video game Cyberpunk 2077, developed by The Witcher 3 studio CD Projekt Red, shares the tabletop RPG's setting, Red will serve as a prequel to the video game set several decades earlier in the 2040s. The rulebook will include new lore information on the end of the Fourth Corporate War and details on the various gangs and factions in the world.
Having previously announced a summer release for Cyberpunk Red that was later delayed due to the impact of COVID-19, R. Talsorian Games has now announced a revised release date of November 14th for the RPG's digital edition. The physical Cyberpunk Red rulebook will release in the US five days later on November 19th - the same day that Cyberpunk 2077 is now due to launch, following its own delay.
While the publisher confirmed that Cyberpunk Red had been submitted to the printer, it said that the release dates were still subject to change as the result of disruption to its planned production and shipping schedule.
It also announced that the digital edition of Cyberpunk Red will cost $30, with the physical rulebook priced at $60.
Alongside the release details for Cyberpunk Red, R. Talsorian's blog post details the entire book's contents in full, if you're curious what you'll find when you crack it open next month.