Dune: Imperium is getting an extra free game mode this week
Coming to the Dire Wolf Game Room companion app.
A new free mode for Dune: Imperium, the deckbuilding game released last year, is set to arrive on the Dire Wolf Game Room companion app this week.
Called Arrakeen Scouts, the game mode will provide players with additional opportunities to gain advantages over their opponents by embarking on new missions and experiencing events. By opening the Dire Wolf Game Room app and selecting a three- to four-player game, players can begin each round of the board game with a report from a team of scouts highlighting potential opportunities and obstacles they could encounter. Selecting the scout button will then unveil a possible twist or new card that players can use that round.
Scouts can reveal new missions that grant players a chance to claim a reward if they're the first to fulfill the requirements. Alternatively, it could be an event that has the potential to be both advantageous and disadvantageous, or the scouts could present a subcommittee position for players to gain bonuses from. Otherwise, scouts can unveil an auction in which players bid against one another to win prizes, or sales might present a deal that could be very attractive to certain players.
Dune: Imperium is a deckbuilding and worker-placement game for one to four players based on Frank Herbert's series of classic science-fiction novels. During the game, players compete as leaders of the Great Houses of Landsraad, vying for power and land across the desert planet of Arrakis. Players will have unique abilities depending on which house they've chosen to play as and can combine these with their deck to win victories. Every person begins the board game with the same deck, but will add to it over time.
Each round has players drawing a hand of cards, before playing their agents one at a time until a player has none remaining. That player then takes their reveal turn and plays the rest of their cards which could provide either persuasion or swords - with persuasion leading to more cards and swords helping players to win conflicts. In our review, George Barker described Dune: Imperium as managing to "combine worker-placement and deckbuilding in a way that just works - even if it's not particularly flashy".
Paul Dennen, the creator of Clank!, is the designer behind Dune: Imperium, with Dire Wolf - the publisher responsible for several video game versions of tabletop games such as Raiders of the North Sea and Root - being the studio responsible for releasing the board game.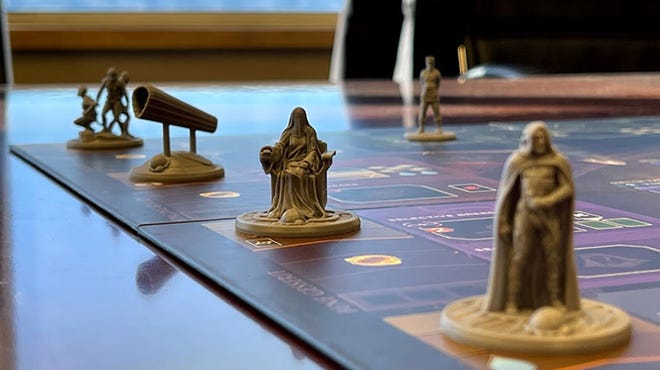 Earlier this year, it was announced that there would be a trilogy of adventure board games based on the upcoming film adaptation of Dune. The first entry in the series will be called Dune: House Secrets and has players becoming members of a team of rebels based on Arrakis who must complete various missions to succeed. House Secrets is set to be released by Portal Games, the company behind Detective: A Modern Crime Board Game, sometime in Q4 of this year.
Players can access the Arrakeen Scouts mode of Dune: Imperium by downloading the Dire Wolf Game Room companion app from iTunes or the Google Play store this week.