D&D 5E gift set, including three essential rulebooks and a DM screen, is 25% off right now
Get your party started.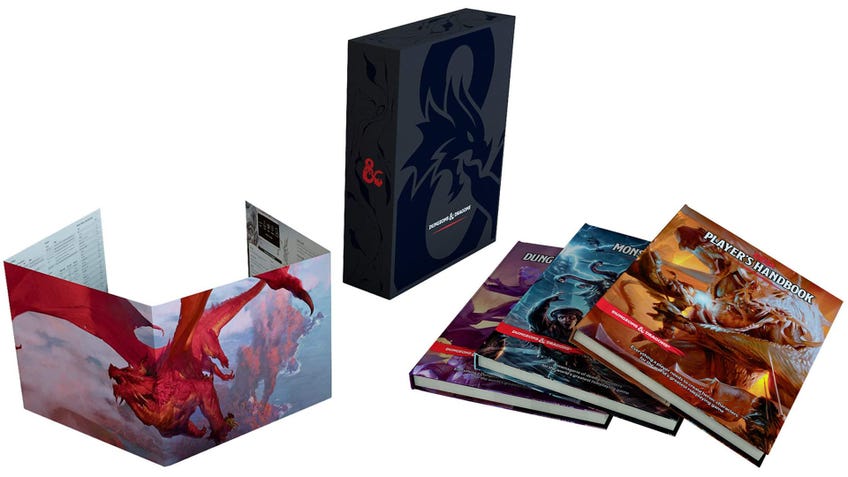 A Dungeons & Dragons 5E bundle including three of the essential books needed to play the RPG - the Player's Handbook, Dungeon Master's Guide and Monster Manual - plus a DM's screen is currently 25% off on Amazon UK.
The D&D 5E Rules Gift Set features the three core rulebooks in hardback, each with a foil cover exclusive to the bundle, as well as a four-panel landscape DM screen with panoramic artwork of a red dragon on the outside and quick rules references on the inside to help the dungeon master while playing.
The Player's Handbook includes guidance on creating characters for D&D 5E - including information on the RPG's various classes and races - and advises players on what their characters can do during a session, as well as the skills and spells available as they level up. The Dungeon Master's Guide, meanwhile, includes the rules required by the person running the session to portray the world, its non-player inhabitants and resolve situations such as combat and other skill tests, plus advice on putting together a campaign and creating a fantasy setting. While the Monster Manual isn't explicitly required to play unlike the latter two books, it includes rules on more than 400 monsters that the DM can use to fill the world and keep fights balanced.
The Dungeons & Dragons 5E Rules Gift Set comes bundled in a slipcase featuring the D&D logo, and would usually set you back £90 for the lot. As part of Amazon's early Black Friday deals, it's currently down to £67.49 - around 25% off.
You can see more of the best Black Friday board game deals for 2020, including money off D&D 5E adventure Storm King's Thunder, ahead of the massive sales event on November 27th in our handy round-up of both US and UK deals.