Start your D&D 5E adventure for as little as £14/$18 ahead of Honor Among Thieves' release
Thanks to discounts on Starter Sets, the Essential Kit, and more.
There's a lot of excitement building up around Dungeons & Dragons, partly in thanks to the upcoming D&D movie Honor Among Thieves which will release on March 31st in the UK and Ireland and in the US.
Honor Among Thieves continues a steady stream of D&D content on-screen, with the tabletop RPG remaining a central theme in the ever-popular Stranger Things, and the recent success of Critical Role's Legend of Vox Machina adaptation on Amazon Prime.
If you've yet to play D&D 5E yourself but have wanted to try it out, there's never been a better time to do so, as lots of the D&D 5E source material has gone on sale at Amazon, including the Starter Sets and Essential Kit. Here's what each of them contains:
Dungeons & Dragons Essentials Kit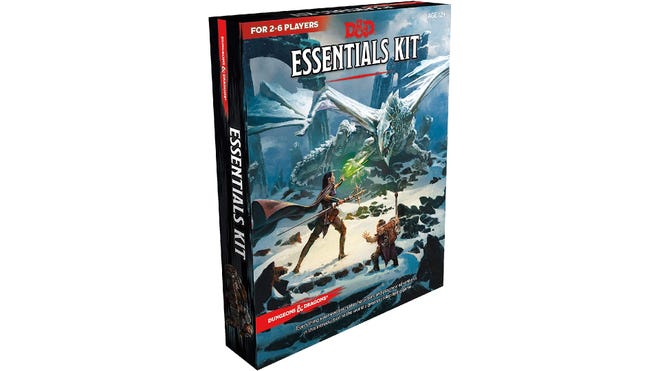 The D&D 5E Essentials Kit contains the essentials you need to run a D&D game with one dungeon master and one to five adventurers. Set in the Sword Coast, the party will have to protect the townsfolk of Phandalin, grow stronger and discover wondrous magic items to then take on the Dragon of Icespire Peak.
In the box you will find a set of 11 dice, a basic rulebook that includes some character creation information and the Sidekick Rules for one-on-one play; cards for magical items, adventures and more, the Dragon of Icespire Peak adventure and a map of the Sword Coast, six character sheets, and a DM screen.
Dungeons & Dragons Starter Set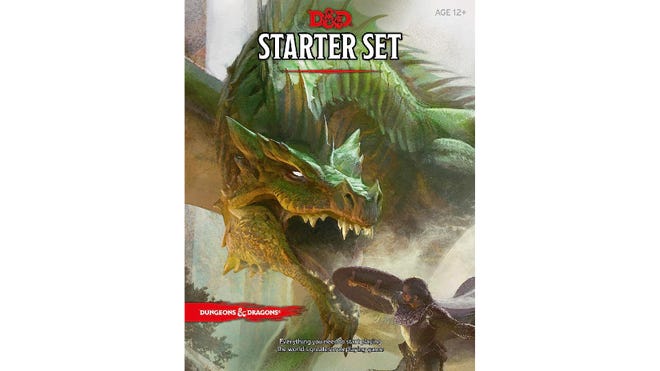 The D&D 5E Starter set is a slightly more slimmed-down set that is still a great way to get you playing your first game of D&D quickly. It contains enough materials for a Dungeon Master and up to 5 players to get started straight away and learn the mechanics of the game with the 'Lost Mine of Phandelver' adventure.
The Starter Set contains the 64-page adventure book, a 32-page rulebook for playing characters level 1-5, five pre-generated characters with character sheets and supporting reference material to help you roleplay and pilot the characters, and six dice.
Dungeons & Dragons Starter Set: Dragons of Stormwreck Isle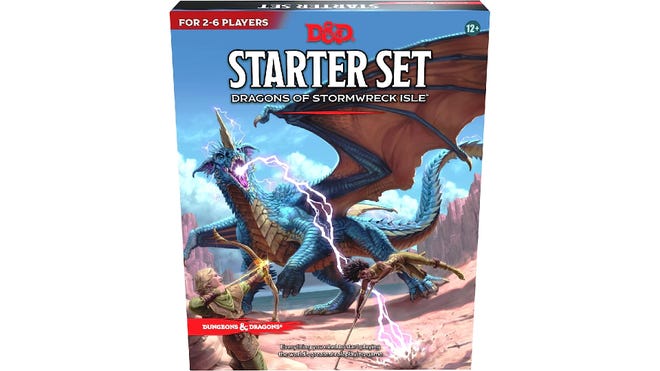 If you're really excited by the Dragons part of Dungeons & Dragons, then you'll be happy to know that Wizards of the Coast launched a new version of the Starter Set last year called Dragons of Stormwreck Isle.
This version comes with exactly the same amount of things as the other Starter Set, but the adventure book contains the Dragons of Stormwreck Isle adventure. This new adventure is a bit more streamlined and keeps the players in one place, whereas Lost Mine of Phandelver can have players getting sidetracked a bit more, so that could be a deciding factor between the two.
The Starter Sets come with pre-made characters, but if you have an experienced player to help or want to use D&D Beyond and have a go at making your own characters, there are some great D&D character sheets for every type of player you can use to get creative before you play.
Because Dungeons & Dragons is getting a lot of headlines recently, there are lots of good deals appearing on these starter sets as well as sourcebooks, official accessories and essentials like dice and dice trays. It's always worth heading to your local game store or bookstore to see what offers they have, and to ask any questions you might have about getting into D&D or help finding a group to play with.
If any more deals on Dungeons & Dragons stuff appears, we'll let you know over on the Jelly Deals Twitter, where we also tweet out deals we see on trading cards, board games and tabletop games.