Embryo Machine brings the mecha battles of Gundam and Evangelion to the tabletop
Japanese robot-battling board game Embryo Machine is to be released in English for the first time, with a Kickstarter for a new edition landing next month.
First released in 2018, Embryo Machine sees players clamber inside the titular mecha - abbreviated to EMs - similar to the bipedal robots seen in shows such as Gundam and Evangelion.
Players are able to customise their EM by drafting cards, outfitting their robot with various attacks and abilities to deploy on the battlefield. Basic and advanced versions of each machine are available, designed respectively for new players and more experienced fans looking for greater complexity and control.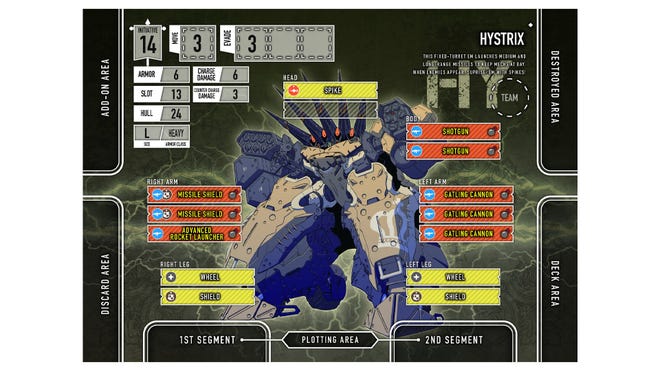 Battles take place on a board divided into a grid, which players use to manoeuvre their EM and attack their opponents, using obstacles and terrain on the battlefield to their advantage by affecting their gameplay traits. Flanking, line-of-sight and close-quarters combat can all affect how a player's pilot fares in battle.
Players' movement and actions are revealed at the same time, leading to gameplay that the game's creators describe as being comparable to the fast-paced action of anime shows and involving elements of planning and strategy to successfully land and avoid attacks.
Up to six people can scrap it out in free-for-all matches or in teams, choosing from nine unique Embryo Machines equipped with 239 different weapon and armour cards.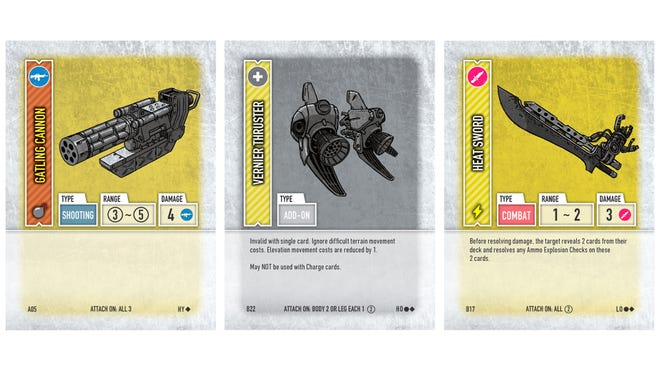 The Japanese studio behind Embryo Machine, Cosaic, released an expansion for the original game in 2019, with a second expansion due for release this year. The announcement of the English-language edition suggests that it will not include content from either set, with no confirmation of a translated release for the expansions.
Localising Embryo Machine is LionWing Publishing, the label focused on bringing Japanese tabletop games to the West. The publisher has previously released English editions of titles such as JRPG-inspired board game Kradia: Wild Hunt Festival and anime-influenced card game Gun and Gun.
The Kickstarter for the English-language edition of Embryo Machine will launch in February, with a release date yet to be announced.