Gloomhaven is being turned into a comic book
Fallen Lion out in December.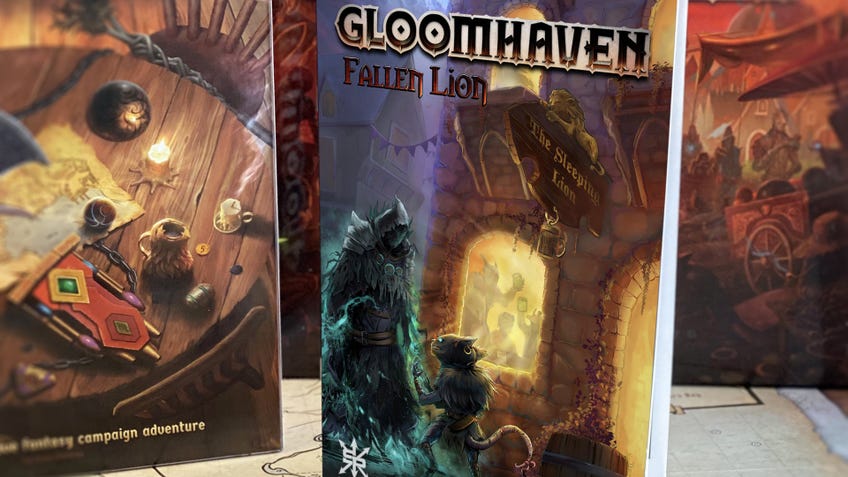 Isaac Childres' acclaimed dungeon-crawler board game Gloomhaven is getting a comic book adaptation due for release this December.
Gloomhaven: Fallen Lion follows a Mindthief character formerly of the Jaws of the Lion - the mercenary group that lends its name to Gloomhaven's recent beginner-friendly spin-off launched over the summer. While Jaws of the Lion is set before Gloomhaven, exactly where Fallen Lion fits into the series' timeline - and if it has any ties to upcoming sequel Frosthaven - is yet to be confirmed.
The one-shot comic will reveal the backstory behind the Mindthief's ejection from the group for "screwing up a job", as well as apparently diving deeper into the fantasy world's lore and further exploring the titular city of Gloomhaven itself.
Travis McIntire is the writer behind Fallen Lion, with Tyler Sowles and Nolan Nasser illustrating the comic. In an email newsletter, Gloomhaven creator Childres said he had been involved with the comic's creation, "mak[ing] sure that it fit into the world in the right way".
According to its creators, Fallen Lion will introduce new characters and elements to Gloomhaven's world. Discussing how the comic captures Gloomhaven's dungeon-crawling gameplay, Childres said that the comic would "inject a lot more flavor into the world" - confirming that there will be "lots" of fighting scenes, but the comic will go beyond the central gameplay loop of the board game "to tell a more visual story".
Gloomhaven: Fallen Lion will be published by Source Point Press, which has announced a release date of December 30th for the comic.