Wavelength publisher set to release catapulting dexterity game Hurlyburly
"When the battle's lost and won."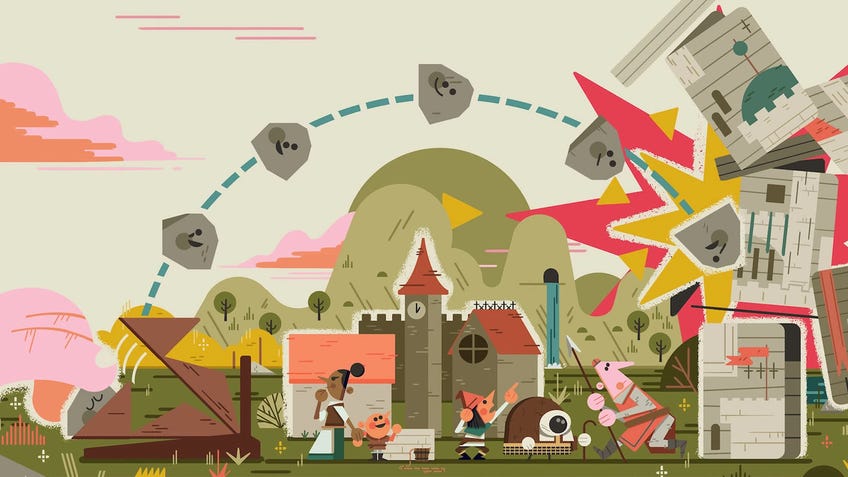 Hurleyburly, a dexterity game about destroying towers with catapults, is being republished by CMYK, the studio responsible for releasing Wavelength.
Originally published by La Mame Games in 2019, Hurlyburly will see a re-release from CMYK via a Kickstarter campaign in the near future. Hurly Burly is a board game for two to four players set in Armenia during 1901, wherein rival teams of scientists are searching for discoveries on a local mountain-range.
During their expedition, the scientists stumble across an entirely new type of volcanic rock, an exciting find that could cement their names in history forever. However, the other scientists are also hungry for the same recognition. Each group of scientists must attempt to build a tower high enough to allow them to communicate using a system of flags, all the while, the rival teams will be trying to bring the other towers down to ensure that they can take the credit for the discovery.
In the dexterity game, players will be each aiming to construct a tower using a collection of cards - in a similar fashion to the board game for kids, Rhino Hero - which they must stack on top of each other. Alongside extending and securing their tower, players will need to manage their own catapults by feeding them ammunition and upgrading them. Every turn, players can choose to either work on their tower, operate or improve their catapult, or attack another player's tower - as long as their catapult has already been loaded.
When launching an attack, players fire a barrage of 'rocks' at their chosen target, potentially knocking the structure down or at least removing some levels. Whichever player has a tower made of at least five levels, with a flag placed on top, wins at the start of their turn.
Hurlyburly was co-created by Verbena and Rikki Tahta, who designed the beloved social deduction game Coup, as well as the party game The Chameleon. According to CMYK, Rikki Tahta is collaborating with the studio on the upcoming re-release of Hurlyburly.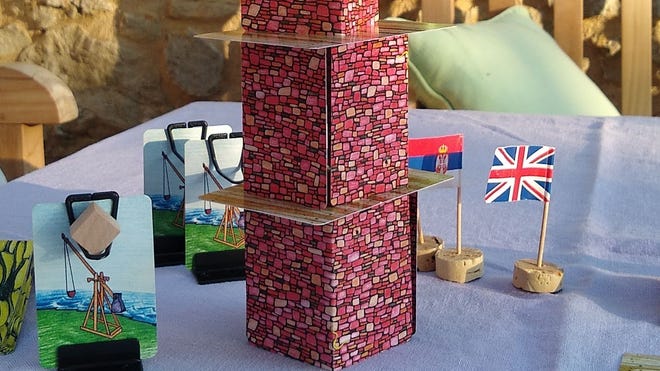 Earlier this month, it was revealed that CMYK would be publishing the upcoming board game Daybreak, co-created by Matt Leacock - the designer behind Pandemic - and Matteo Menapace. Originally unveiled under the name Climate Crisis, Daybreak is a co-op title focused around environmental issues, with players working together as major world powers to reduce carbon emissions and soften the impact of climate change. Daybreak still does not have a confirmed release date.
The date for the launch of the Kickstarter campaign for Hurlyburly is yet to be confirmed by CMYK, as are the pledge amounts.