Juicy Fruits is the next board game from co-creator of Spiel des Jahres winner Pictures
Tropical tabletop.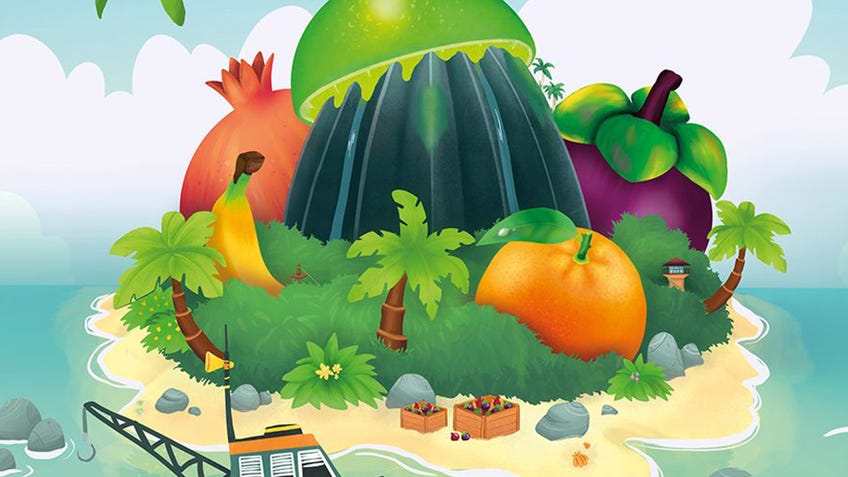 Grow a wide variety of delicious tropical produce in Juicy Fruits, an upcoming board game from the co-designer behind 2020 Spiel des Jahres winner Pictures, Christian Stöhr.
Juicy Fruits is a board game for one to four players that takes place on a collection of small islands where an entire ecosystem of fruit trees live in harmony. In the tile-placement game, players take the role of grocers who make their home on one of these paradise islands, with the sole intention of harvesting its delicious fruits and selling them off. Players will have to manage their collection of fruit and ship it off to suppliers, or set up more businesses on their islands.
In the game, players take turns to select a fruit collector token and move it to a free space that enables them to collect the fruit type shown on the tile. Potential fruits include bananas, oranges, limes, pomegranates or mangos. The player will receive an amount of fruit equal to the number spaces their chosen token moves. Using this newly-acquired fruit, players can then decide to fulfill a pending order on one of the ships moored at their island or take over one of the potential business spaces.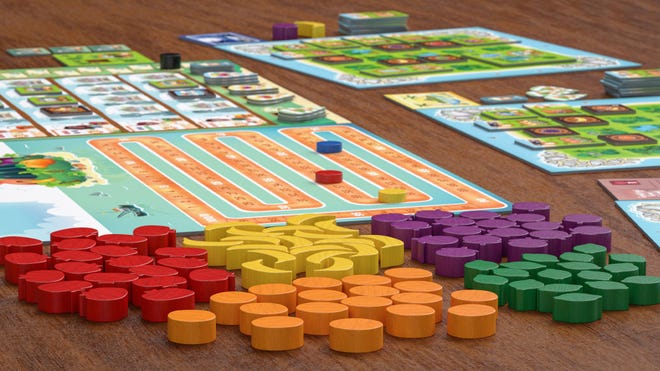 Supplying the docked ships with the produce they require means freeing up space on the island that can be used to grow more valuable fruit. However, there are a limited amount of businesses on the island, with some being worth more points than others - if players wait too long their opponents could snap up the better opportunities for themselves. Therefore, players must maintain a fine balance between staying competitive on the business market and ensuring that the supply ships are satisfied.
Once all of the businesses on the island are claimed, then the game ends and the player with the most points becomes the winner.
Besides creating Juicy Fruits and Pictures, Stöhr previously designed the card game Schraube Locker, which sees players rolling dice in an attempt to gain the cards associated with each number. Despite only being the designer's second game, Pictures received the most prestigious award in the tabletop gaming industry, the Spiel des Jahres, last year, beating out titles including My City - a legacy game by Lost Cities designer Reiner Knizia - and Nova Luna, co-designed by Patchwork creator Uwe Rosenberg. Stöhr co-created Pictures alongside Daniela Stöhr.
Juicy Fruits is being published by Deep Print Games, a studio founded by ex-employees of companies including Eggertspiele and Plan B Games last year. Since its creation Deep Print has released two titles: Renature, a board game co-designed by Tikal and Torres creators Wolfgang Kramer and Michael Kiesling, and a board game themed around the issue of climate change called Kyoto.
According to BoardGameGeek, Juicy Fruits is set to be released sometime this year, with a retail price yet to be confirmed.