Magic: The Gathering Arena finally launches on mobile later this month
But there's a catch.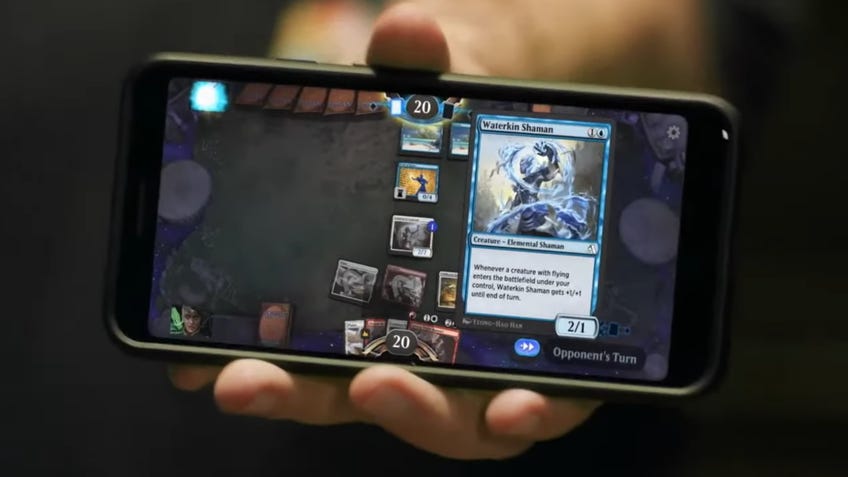 Magic: The Gathering Arena, the free-to-play digital version of the collectible card game, will finally arrive on mobile devices later this month.
MTG Arena was confirmed to be in development for mobile in early 2019. Its PC counterpart launched in the autumn of 2019 after almost two years in beta, with a Mac release following last June.
In September, MTG maker Wizards of the Coast reaffirmed its plans to launch MTG Arena on mobile before the end of 2020, showing the first gameplay of the app as part of its Announcement Day stream.
However, that launch didn't come to pass, with Wizards of the Coast now announcing that Magic: The Gathering Arena will launch into early access on Android on January 28th.
The limited rollout will only support specific Android devices at first, with a full list of compatible hardware and recommended specs available on the MTG website.
Support for more Android devices and iOS - including iPhone and iPad - is planned for later in 2021, Wizards of the Coast said, adding: "We want to make sure our releases are polished and ready to play."
The early access version of the app will feature cross-platform support, allowing players to compete against PC users, and the complete library of cards and selection of MTG formats already available in Arena.
The launch coincides with the release of new Viking-themed MTG set Kaldheim, which will be available in Arena from January 28th and as a physical set from February 5th. The expansion introduces snow lands and spells to the game, as well as new keywords Boast and Foretell, which respectively allow players to activate an ability only if a creature attacked and exile cards from their hand facedown to cast later on. The new cards have been given a visual overhaul, with new 'showcase' frames on the set's legendary characters. Kaldheim also features MTG's first non-binary planeswalker, Niko Aris.