As d'Or winner and Spiel des Jahres nominee MicroMacro is getting a sequel
Time to find more crimes.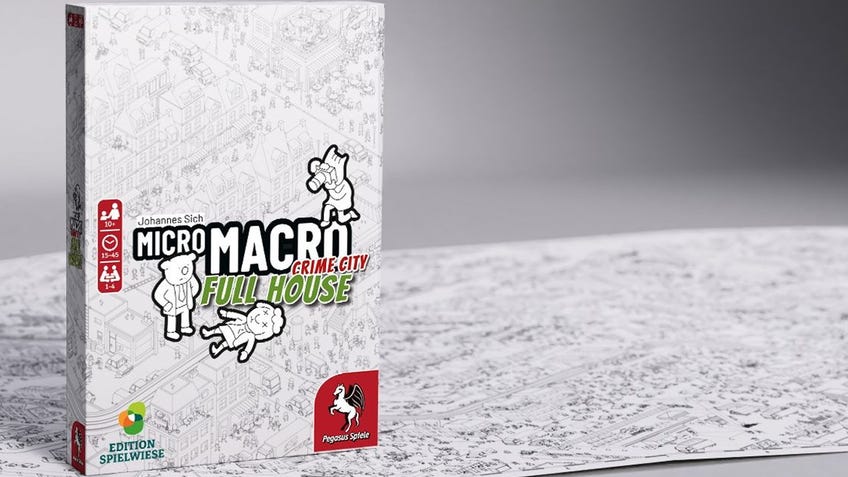 Continue searching maps to find perpetrators in MicroMacro: Crime City - Full House, an upcoming sequel to last year's co-op deduction game.
Set to feature 16 new cases to tackle, Full House will see players exploring a large and detailed map in order to unravel a series of mysteries using various clues that are scattered across a city.
According to the game's publisher, Pegasus Spiele, Full House will provide a "more complex, sophisticated and, of course, a bit more criminal" co-op game experience in comparison to the original MicroMacro. (Thanks BoardGameGeek.) Certain cases will also be marked with a series of symbols indicating which ones are more suitable for younger players, which is a brand new feature for the series.
In a similar fashion to the first MicroMacro game, players will need to answer various prompts regarding a criminal case by searching a 75 by 110cm map which contains illustrations of the city's inhabitants going about their day. The clues they'll need to find are hidden amongst otherwise ordinary interactions, with players looking to trace a trail from the crime scene to its perpetrator. Should they successfully manage to solve all of the game's cases, then the collaborators will have won Full House.
MicroMacro: Crime City - Full House was created by Johannes Sich, the designer behind the original MicroMacro as well as the mafia themed board game, La Cosa Nostra - that has players attempting to climb the criminal ladder and establish their own illegal monopoly.
Apart from the MicroMacro: Crime City series, Pegasus Spiele is also responsible for releasing several historically themed games such as Istanbul, a tabletop title about finding bargains in a bustling bazaar, and Mombasa.
Since it was released last year, MicroMacro: Crime City has received the 2021 As d'Or award for Game of Year as well as a recent nomination for the 2021 Spiel des Jahres, the most prestigious prize in the tabletop gaming industry. In the game, players must scan a map to follow a trail of clues which will, in turn, help them to answer questions and solve various cases.
MicroMacro: Crime City - Full House is set to be released in August, with a retail price yet to be confirmed.