Pandemic: Hot Zone - Europe gets a release date and free print-and-play you can try right now
Can be combined with North America spin-off using new Hemispheres rules.
The next entry in Pandemic's Hot Zone series of smaller, faster and simpler spin-offs from the co-op board game is out this summer - but you can play it for yourself right now thanks to a newly-released print-and-play edition.
Pandemic: Hot Zone - Europe follows last year's Hot Zone: North America as a trimmed-down version of Matt Leacock's popular 2008 hit challenging players to save the world from the outbreak of fast-spreading diseases.
Focusing solely on locations in Europe rather than the entire globe, Hot Zone: Europe also drops the number of diseases needing to be cured to three, allowing the game to be played by two to four people in just half an hour. As in past Pandemic games, each player takes control of a character with a unique ability and can move between cities, removing disease cubes and collecting the cards required to discover a cure to each of the diseases.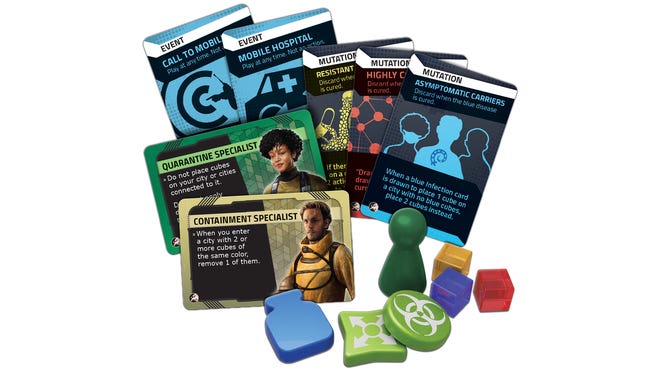 Following its reveal earlier this year, series publisher Z-Man Games has announced that Pandemic: Hot Zone - Europe will be released on July 9th, priced at $19.99 (£14).
Ahead of the release, Pandemic: Hot Zone - Europe has been made available as a free print-and-play version that can be downloaded right now as a PDF from Z-Man's website. A print-and-play demo of North America was similarly released ahead of its launch last year.
Z-Man has also released a set of rules that will allow Europe to be combined with North America to form a single game experience known as Hemispheres. In the variant, each player controls a team of three characters rather than one, who are able to move between the two boards using a flight action. The game mode also introduces an archive of city cards to which the players can add or remove cards to help discover cures. The group must discover the cure to all six diseases - three on each board - to win.
The Hemispheres rules note that two different copies of Hot Zone are required to play, hinting at the possibility of future instalments in the spin-off series. Z-Man is yet to confirm any future Pandemic: Hot Zone releases.
Outside of the Hemispheres mode, characters and event cards from Europe and North America can be swapped to add variability to playthroughs. Hot Zone: Europe also includes mutation cards, which introduce additional challenges for a more difficult experience.
Last spring, Z-Man announced it had delayed announcements of future Pandemic games to a "more appropriate time" in response to the ongoing COVID-19 crisis. Both the third and final Pandemic Legacy game, Season 0, and Pandemic: Hot Zone - North America later saw a release over the summer.