Patchwork is getting a Holiday Edition in time for Christmas that comes with a cookie cutter
Let it sew.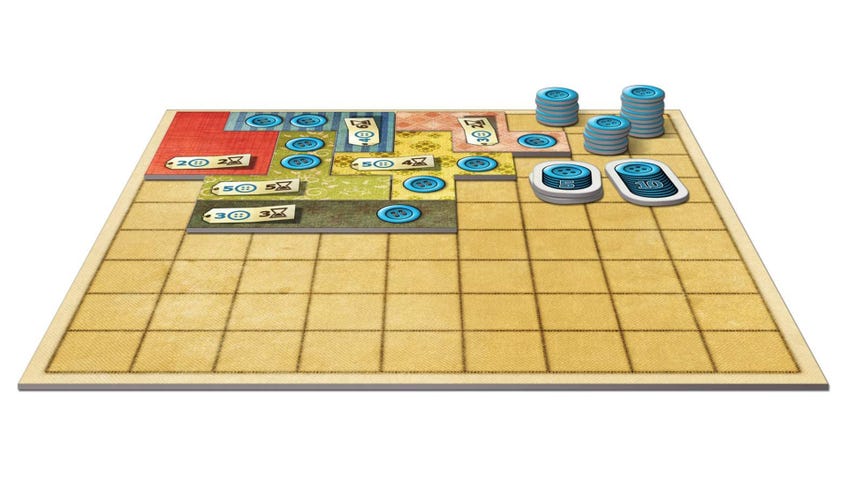 Wrap up warm and create a winter-themed quilt with Patchwork: Holiday Edition, the latest version of the beloved two-player game releasing next month.
Decked out in plenty of festive decor, Patchwork: Holiday Edition - known as Christmas Edition in the US - sees players placing tiles to form their own beautiful blanket, as in the original. Featuring Yuletide patterns, Patchwork: Holiday Edition has two players attempting to make the highest-scoring December-appropriate quilt possible.
The upcoming board game even comes with a Patchwork-themed cookie cutter, enabling players to bake and munch on biscuits while they play.
The original Patchwork is a popular beginner board game about drafting and placing tiles to maximise point collection. Every player has their own board that they want to fill with tiles of varying shapes and sizes in order to score the most buttons. Each turn, a player can choose to pay for a tile, as long as it isn't more than three spaces away from the thimble. Tiles must be placed adjacent to another tile - unless it's the very first one - and cannot go outside of the player board.
Depending upon which tile a player has taken, their player piece will be moved along the turn order track, collecting any stray buttons along the way. Whenever a button is taken, players score how many buttons are shown on the tiles on their player board. Once a player's token reaches the end of the turn order track, the game ends and players tally their total buttons, removing points for any empty squares left on their board.
The original and Holiday Edition versions of Patchwork were both designed by Uwe Rosenberg, the creator behind Cottage Garden and worker-placement game Agricola, as well as its two-player spin-off, Agricola: All Creatures Big and Small.
Another edition of Patchwork - Patchwork: Americana Edition - was released earlier this year. Displaying patterns inspired by US communities, the Americana Edition is mechanically the same as the original version but offers players a very different colour scheme and visual style.
Patchwork's Holiday Edition and Christmas Edition are set to be released on November 20th at a retail price of $20 (£15).