Pokémon TCG teases a new cross-platform digital application and mobile support for next year
Cards from Pokémon TCG Online can be transferred over, spelling the end for the old app.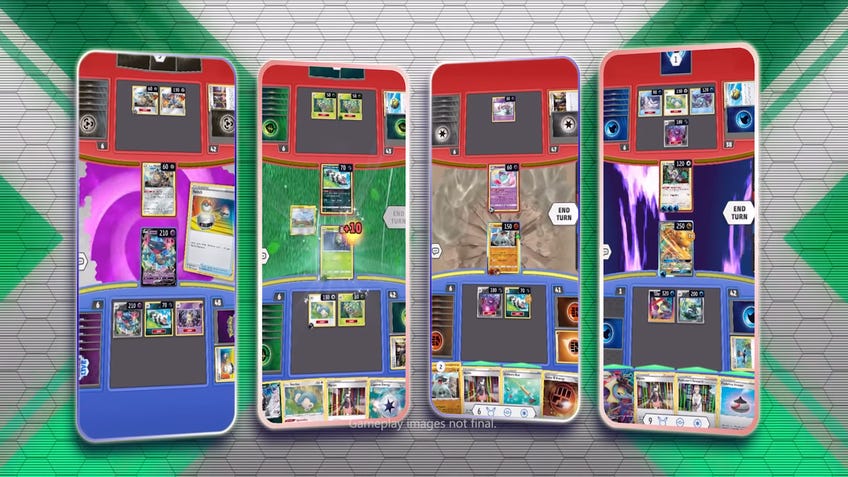 The Pokémon Company has revealed an early peek at Pokémon Trading Card Game Live, a new digital client arriving "soon" that will allow cross-platform battles between mobile - a first for the title - and computer players.
The video posted to the official Pokémon YouTube channel showcases a few of the trading card game's key features, such as collection management and deck building tools, along with a bevy of customisation options for in-game avatars, deck sleeves, boxes and coins. It's also extremely colourful and flashy, filling the space surrounding the relatively simple board with elemental effects and other flourishes during matches.
One of the best additions is what looks to be the ability to play matches in portrait orientation on mobile. The convenience of playing with one hand - or at least with a comfortable grip - may seem small but makes a world of difference, especially over longer sessions. It would not be surprising if this alone sells some folks on trying the digital translation.
Pokémon Trading Card Game Live will support both casual matches and ranked ladder play at launch that will be powered by an internal matchmaking system, though players are free to directly challenge friends added in-game. Eight preconstructed decks will provide newcomers plenty of options after they complete the included tutorial and learn how to play the Pokémon TCG.
More cards can be earned or purchased within the client through daily quests as part of the inevitable battle pass that seems as though it will function similarly to the mastery pass offered in Magic: The Gathering Arena. Also similar to Arena and other free-to-play games is the expansion of in-game currencies that can be spent on cosmetics. Coins are earned from completing activities and will be spent on various cosmetics for avatars and decks, while crystals fund the purchase of booster packs and other playable cards. How much crystals and bundles will cost in real-world currency was not shared at this time.
Players with existing collections in Pokémon TCG Online will be able to transfer up to four copies of each card (with some exceptions) with the rest converting into credits that can be spent on other card singles. Constructed decks will also make the jump, preserving existing player's hard work and crafting.
No third-party developers have been attached to the project, unlike the still-running Pokémon Trading Card Game Online created by Dire Wolf Digital. Currently the only official way to play, Pokémon TCG Online lacks most of the features currently considered standard fare for digital clients. Further, rampant bugs and a woefully out-of-date tutorial has left the online community frustrated.
Pokémon Trading Card Game Live will soft launch on mobile devices in Canada later this year. A global beta will arrive some time in 2022, but no hard dates have yet been provided. A press release for the new version stated that the Pokémon TCG online app and its PC equivalent will be removed prior to the launch of Live.