Live Pokémon auction event involves sealed packs from a Booster Box worth $25,000
Which could contain a $15,000 Charizard.
A 1999 Pokémon Unlimited Base Set Booster Box containing cards from the trading card game's original English language release is being put up for auction.
The booster box is being auctioned off by Heritage Auctions, a company that specialises in hosting auctions for valuable collectibles. Taking place at Collect-A-Con - a convention focused around trading cards and comics held in Texas - the following Box Break event will see the Pokémon Booster Box being opened and the sealed card packs revealed to successful bidders at the event and in the live streaming audience.
The box itself is valued between $20,000 (£14,000) and $25,000 (£17,000), and could potentially contain one of the highly sought after Charizard cards - which, as one of the rarest Pokémon cards in existence, can be worth around $15,000 (£10,000) on their own. Otherwise, Joe Maddalena, an Executive at Heritage Auctions, has estimated that at least 12 of the 36 packs up for auction could contain hologram cards or a Blastoise or Venusaur. There are no minimum bids required.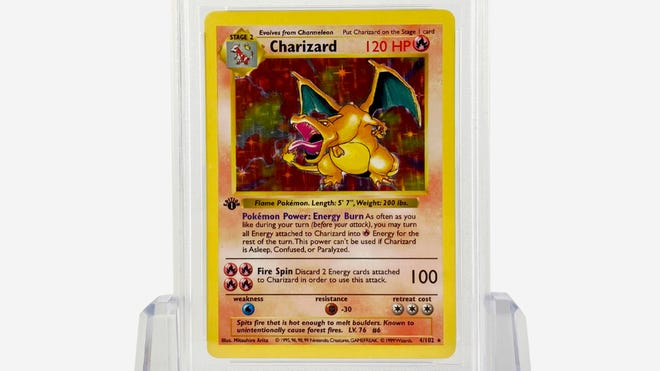 Besides their Pokémon booster packs, successful bidders will also receive a pass to Collect-A-Con, an official Collect-A-Con T-Shirt, a meet and greet with Gary Haase - the current owner of a Pokémon card collection worth around $20 million - and a grading of one of their cards via the Certified Guaranty Company, or CGC, with a pedigree label from the Collect-A-Con Box Break event.
The Pokémon Trading Card Game, which was originally published by Wizards of the Coast - the studio responsible for Magic: The Gathering and the RPG series Dungeons & Dragons - before the rights were transferred to The Pokémon Company in 2003, is a tabletop title based on the popular video game series about catching and battling monsters.
In the game, two players compete against one another using their individual decks of cards. Energy cards are used to fuel the attacks of players' Pokémon cards, damaging their opponent's active Pokémon and potentially knocking them out. Should players have the initial evolutions of their Pokémon cards on the board, they will be able to swap them out for their more powerful evolution cards if they draw them.
The Collect-A-Con Box Break event follows a public statement from the Pokémon Company made earlier this year addressing the current shortages faced by fans and collectors of the Pokémon Trading Card Game. Retailers such as Target and Walmart, as well as local game stores, have struggled to keep up with the current demand for booster packs, boxes and other Pokémon products since the start of the COVID-19 Pandemic - which caused shipping delays. The official post from the Pokémon Company stated that: "We understand this inconvenience can be disappointing for fans, and we are working to address it where it is within our control."
The auction for the 36 Pokémon booster packs is currently live until tomorrow, with the Collect-A-Con Box Break event taking place on June 27th.