Another gem mint holographic Charizard has been placed on the auction block
Accompanied by two 1st-edition collections of early sets.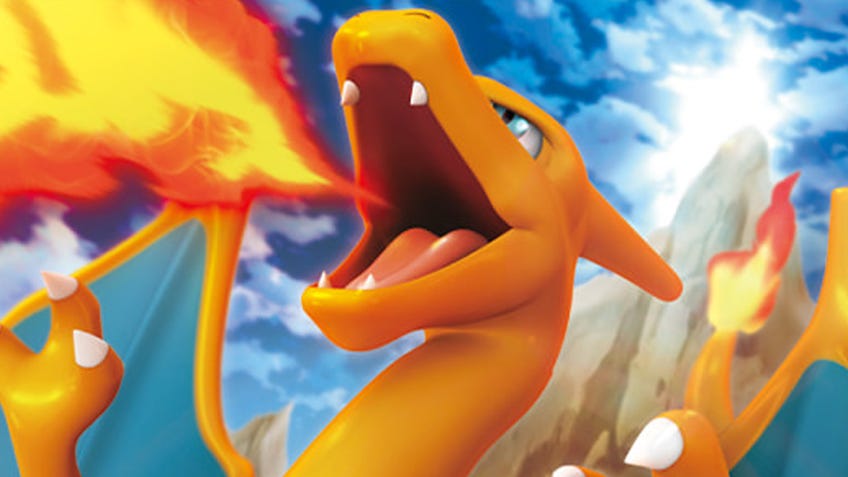 How many dragons can be captured before the hunt loses its lustre? It seems as though interest in incredibly rare singles from the Pokémon trading card game can sustain at least one more, as Goldin Auctions has posted a holographic, 1st edition Charizard in near perfect condition with an opening bid of $35,000 (£24789).
Officially listed as 1999 Pokémon Base #4 Charizard Holographic, 1st Edition (The Funhouse Collection), the card was graded by SGC as gem mint 10 - as close to perfection as a piece of shiny cardboard can be. The relatively young company has gained notoriety in the past few years by chipping away at the backlog accrued by its two more established competitors - PSA and Beckett - and positioning itself as an approachable service with little to no wait time.
The highly rated Charizard is the latest in a rising tide of extremely rare Pokémon cards to grace an auction block, a practice that exploded during the pandemic as collectors new and old began aggressively grading and selling their collection. Twitch streamers further stoked the fire by cracking boosters packs - or even entire boxes of ultra rare cards - live on camera.
Rapper Logic purchases a similarly graded Shadowless version of the currently available Charizard in October 2020 for £169,000, then setting a record for most expensive Pokémon card sold at auction. Mere months later, one of only two existing presentation Blastoise cards sold for $360,000 (£266,000) on January 14th - that exorbitant sum raised the record rate even further for collectible cards.
The year-long auction frenzy has not skipped over booster boxes, made more appealing by the possibility of containing any number of highly sought-after singles. First-edition boxes from the trading card game's initial print run have habitually sold in the tens of thousands of dollars, either to be opened live on Twitch or in the anticipatory privacy of a collector's home. Heritage Auction has taken things a step further, announcing June 14th it would auction such a booster box one pack at a time, revealing their contents to successful bidders one at a time.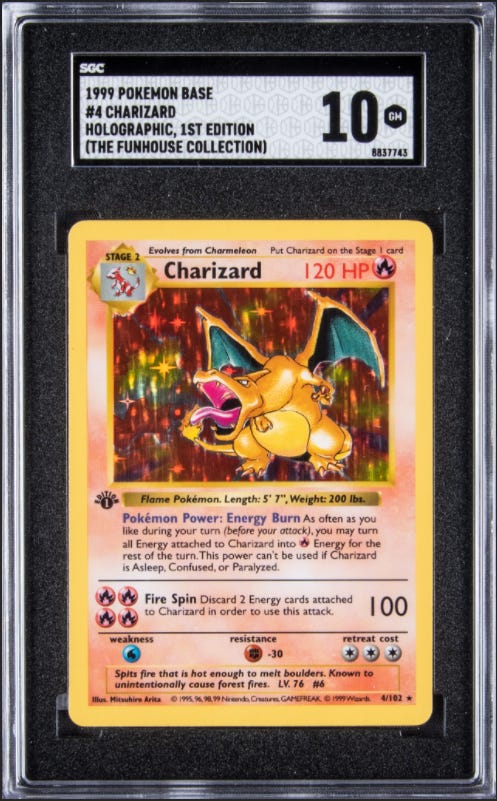 Goldin Auctions is currently auctioning two other Pokémon-related lots - a complete set of 1st-edition cards from both the Jungle and Fossil expansions, released in English in 1999. The cards, which are all holographic, have been individually graded and contain several gem mint and near gem mint singles. The Jungle and Fossil sets were the first expansions to the base Pokémon trading card game and expanded the roster of first-generation beasties able to be added to competitors' decks.
Bidding for the holographic Charizard begins at $35,000 (£24789) and runs through June 26th. The complete expansion sets start at $5,000 and $2,500 for Jungle and Fossil, respectively, and will be accepting bids through June 26th, as well.