Pokémon TCG cards featuring doodles and autographs by original artists on auction
Including co-creator Ken Sugimori.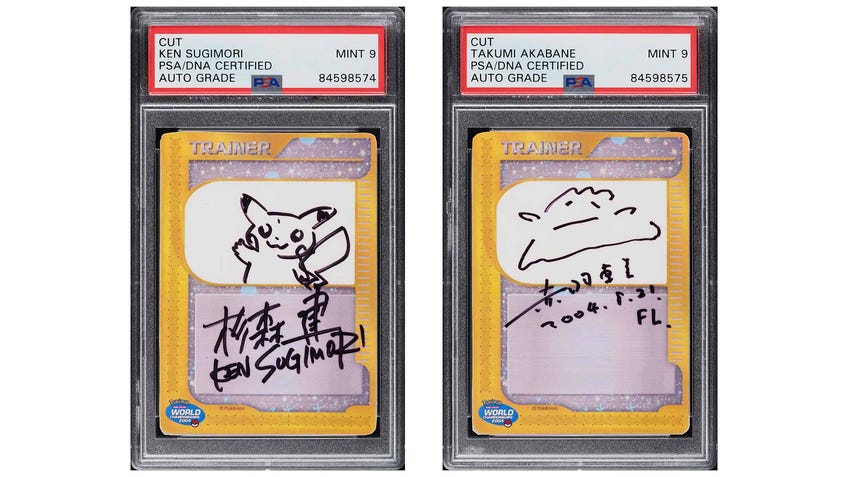 A series of cards for the Pokémon Trading Card Game featuring doodles and autographs from the game's original artists are going up for auction.
Custom-crafted to enable the artists to add their own drawings and autographs, the Pokémon TCG card set will be put up for auction via the PWCC Marketplace, an auction house that specialises in auctioning various collectibles – such as some of the rarest and most expensive Pokémon cards.
The Pokémon TCG card set due to be put up for auction are blank cards – meaning that they do not feature any printed artwork as a standard Pokémon card would – that include the 2004 Pokémon World Championships logo. Encased within protective casings provided by the Professional Sports Authenticator, a company that grades collectible trading cards to determine their worth and authenticity, the Pokémon cards have all been graded as mint or near-mint quality.
Each card included in the set features a drawing and autograph from a certain Pokémon TCG artist. One card depicts a doodle of the iconic electric mouse Pokémon Pikachu by Pokémon co-creator Ken Sugimori, with another co-creator, Kouchi Ooyama, also having drawn a picture of Pikachu on their card.
Meanwhile, Mitsuhiro Arita – the illustrator behind the highly sought-after Charizard card for the original Pokémon TCG Base Set – chose to draw a Voltorb, with illustrator Midori Harada featuring a Golbat on their card. The last Pokémon card included in the set depicts a doodle of the strange transforming Pokémon Ditto, alongside the autograph of another co-creator of Pokémon, Takumi Akabane.
Pokémon TCG cards that have featured illustrations and autographs from artists have been auctioned-off for significant sums of money in the past. For example, a holographic Dark Charizard card that was signed and doodled on by artist and Pokémon co-creator Sugimori was sold at an auction for over $13,000 (£11,036) earlier this month.
The Dicebreaker video team see whether a protective case can protect a PSA Charizard Pokémon card from a variety of dangers.
Other notable Pokémon cards that have been auctioned-off in the past include an extremely rare Pokémon card, the Pikachu Illustrator card that was created as part of a competition run by the Japanese magazine CoroCoro Comic from 1997 to 1998. The card, which was one of a set of any 39, was sold for a record-breaking $900,000 (£764,037) earlier this year, becoming the most expensive Pokémon card ever sold.
The Pokémon Trading Card Game is a tabletop title for two players that sees the competitors using their respective decks in order to defeat their opponent. At the start of the game the players will need to put a Pokémon card into their active slot, with the card requiring energy cards in order for the player to use their abilities and/or attacks. Players can attack their opponent's Pokémon in order to reduce its health to zero and have it faint. Successfully causing six of an opponent's Pokémon cards to faint – or having their active Pokémon faint whilst they have no Pokémon cards on their bench – will win them the game.
The auction for the autographed cards is currently live until August 28th, with current bids ranging from around $1,000 (£848) to $7,250 (£6,154).