Roll for the Galaxy arrives on PC and mobile
Featuring Keldon Jones AI.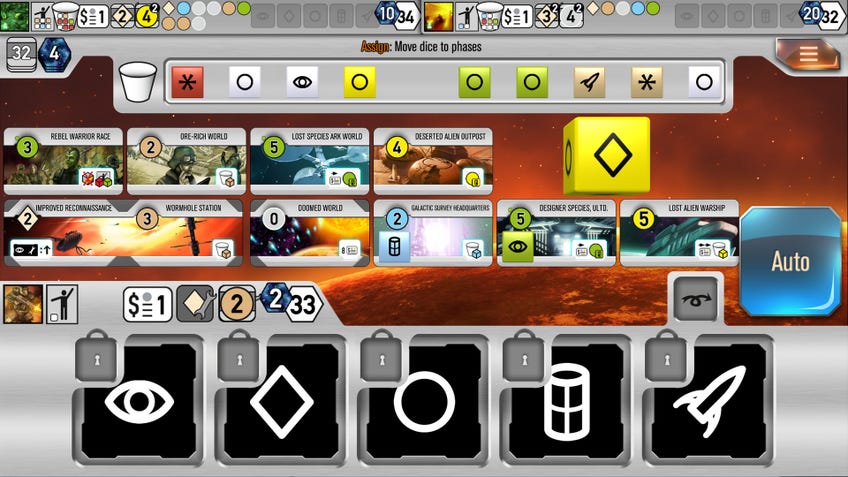 A digital version of Roll for the Galaxy, the dice game spin-off from acclaimed card game Race for the Galaxy, has launched on PC, iOS and Android.
Designed by Race for the Galaxy creator Tom Lehmann and Wei-Hwa Huang, Roll for the Galaxy sees players throwing dice to expand their intergalactic civilisation by trading goods, settling new planets and advancing their technology.
The game's digital version includes the ability to play in local or online multiplayer with up to five people, or face computer opponents powered by Keldon Jones' neural network AI, previously used in the Race for the Galaxy app. The multiplayer modes can be played in real time or asynchronously, with players waiting to take their respective turns.
The app includes nine different starting factions and nine starting worlds, along with 60 development and settlements for players to add to their expanding space empire.
Roll for the Galaxy's app has been developed by Temple Gates Games - the studio behind Race for the Galaxy on PC and mobile - in collaboration with tabletop publisher RIo Grande Games.
Roll for the Galaxy is out now on PC, iOS and Android. The PC app is 33% off on Steam until September 1st as part of a launch promotion, down to £7.63 from its usual price of £11.39. The iOS and Android mobile versions both cost £9.99/$9.99 on the App Store and Google Play respectively.