It looks like stained glass dice game Sagrada is getting a legacy spin-off
One die per week?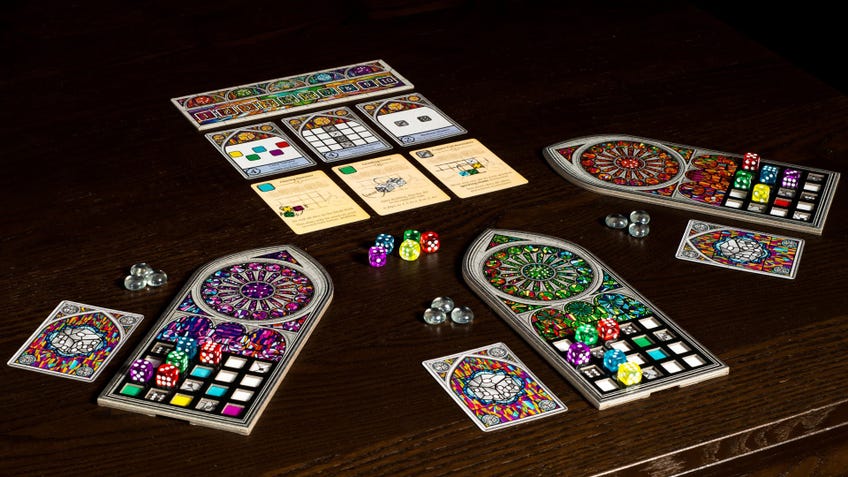 Sagrada, Floodgate Games' competitive dice drafter about constructing beautiful stained glass windows, will receive the legacy treatment later this year, according to several online accounts.
The first report seems to have been posted to the r/boardgames Reddit page by user franch at around 12:30pm on January 14th. They said Floodgate sent them a short email without much details, posting the entire text in their post:
"Craft Your Stained Glass Legacy! We'll be making an official announcement about Sagrada Legacy in the coming weeks with more information. But we wanted you, our most loyal fans, to have the inside track on it first! Sagrada: Legacy will be released this summer for GenCon 2021!"
A comment three hours later in the official Floodgate Games Discord server seems to confirm these details. An image - perhaps pulled from the email - contains the exact wording of the post on an image, along with a graphic of "Sagrada Legacy" in the same style as the original game. A user named "FloodgateMike", who was tagged as a member of the design team, responded, "Woohoo!!! This is going to be so amazing."
Sagrada is not a complex game, so expecting a treatment on the level of Pandemic Legacy isn't likely. The simple premise of drafting various coloured dice to complete blueprints on cards belies a deep strategy potential, making it a great board game for beginners. Success often requires pursuing multiple strategies at once while also keeping a close eye on your opponents.
Still, nobody is quite sure what to expect. "I don't know what it'll be like, but I'm not sure there's anything more on theme than a slow progression over many sessions," one Reddit user said. "I heard if you pull the wrong card and you have to flush a die down the toilet," another joked. Another commenter reminded folks that the real life Basílica de la Sagrada Família in Barcelona - with its 138-year construction still ongoing - played out like history's longest legacy game.
Dicebreaker reached out to Floodgate Games for confirmation and more details but did not hear back by time of publication. We will update this piece as more information is discovered.