Star Wars: The RPG's 30th anniversary edition is almost half price right now
Includes core rulebook and sourcebook as you remember them from the eighties.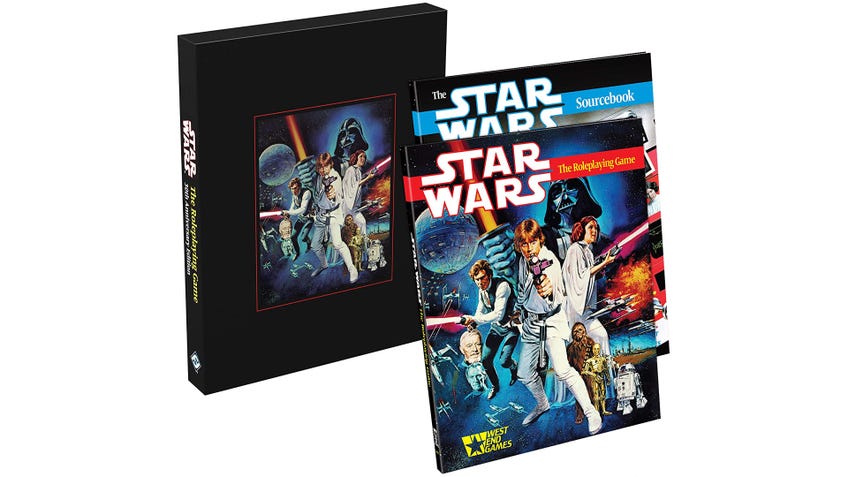 The 30th anniversary re-release of the 1987 Star Wars roleplaying game is currently close to half price on Amazon US.
The two-book set was released in 2018 to mark three decades since the debut of West End Games' Star Wars: The Roleplaying Game, the first tabletop RPG based on the sci-fi series, in 1987.
The limited-edition slipcase includes hardcover recreations of the game's original core rulebook, which includes a complete adventure called Rebel Breakout, and The Star Wars Sourcebook as they first appeared in the eighties.
The RPG's sourcebooks are notable for being some of Star Wars' earliest expanded universe releases, introducing elements of the galaxy far, far away outside of the original film trilogy that have persisted into the recently rebooted EU.
The gameplay itself is based on the d6 system, which requires players to roll a six-sided die to resolve tests and combat. The system was first used in WEG's Ghostbusters RPG, and was replaced in later Star Wars RPGs - published by D&D maker Wizards of the Coast, then Fantasy Flight Games - by d20-based rolls and custom narrative dice, respectively.
Star Wars: The Roleplaying Game's 30th Anniversary Edition is currently discounted on Amazon US to $32.04 from its RRP of $59.95 - making it almost half price at 47% off.