Star Wars Unlimited's prerelease sets and starter kits cleave close to MTG's well-trodden ground
Organised play for Fantasy Flight and Disney's upcoming TCG looks mighty familiar.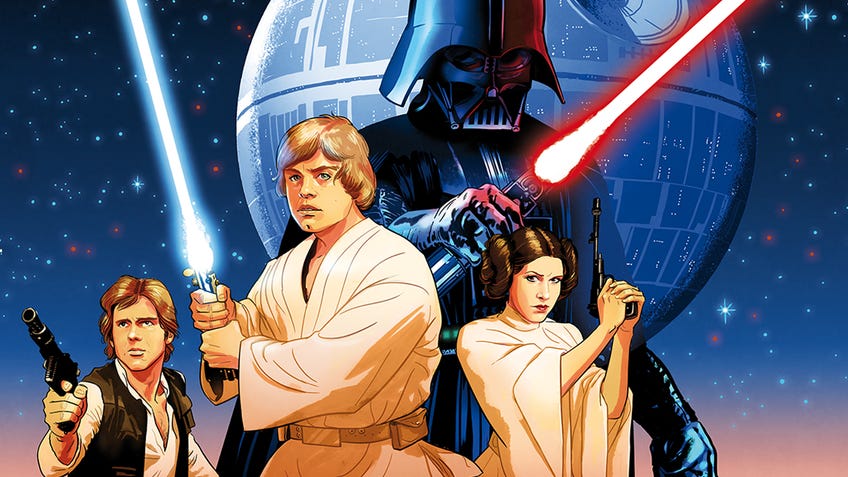 Star Wars: Unlimited recently revealed plans for supporting organised play through a series of prerelease sets and starter kits, both printed under the Spark of Rebellion moniker.
If you're at all familiar with any Magic: The Gathering prerelease weekend events, you know just about everything Fantasy Flight and Disney have planned for the upcoming trading card game set in the Star Wars Universe. The publisher isn't looking to break the mould and will instead copy the success of predecessors such as MTG.
Players will congregate at their local game stores, purchase a Spark of Rebellion prerelease box and use the six booster packs (plus two included promo cards) to build a deck capable of competing in limited format tournaments organised by the LGS. Like MTG and other titles, players will likely be able to purchase the box and take it home with them to host their own prerelease event - or simply bust open the packs and ogle the possible variant art pulls.
A press release claims the Spark of Rebellion prerelease kit will cost around $30 and contain six booster packs from Star Wars: Unlimited's first set, along with quickstart rules, damage counters, two promotional cards, a deckbuilding guide and a cardboard box for holding everything. This is comparable with other competitive TCGs in price and offering, and the publisher says the prerelease events will likely be scheduled "starting from a week before launch at most game stores worldwide".
Those not interested in competing against strangers but still wanting to establish the foundations of a collection can turn towards the Spark of Rebellion Two-Player Starter box, which contains two preconstructed decks of 50 cards each, along with paper play mats, deck boxes and all the other cardboard paraphernalia often packaged inside introductory boxes. While these are often not worth the price of admission for more serious players - but a great way to learn how to play Star Wars: Unlimited - the box will contain full playsets of 10 cards not printed in booster packs.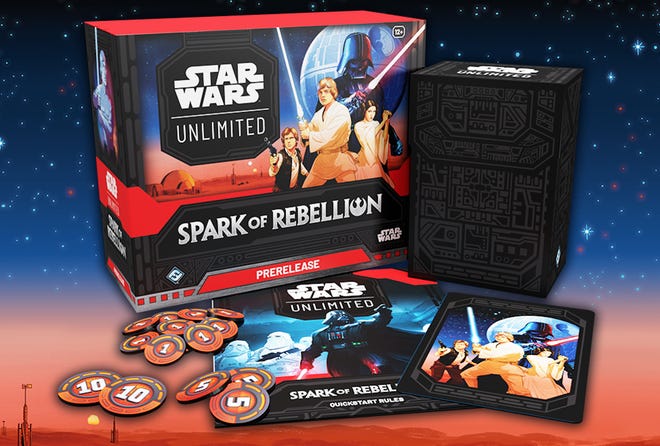 Star Wars: Unlimited won't hit tables until 2024, a year after Disney Lorcana exploded onto the tabletop scene with extensive plans for four expansions a year but lacking organised play support - granted, product shortages have been largely to blame. Meanwhile, old favourite Magic: The Gathering and the hot new One Piece: The Card Game boast popular prerelease events amongst their organised play offerings.
Lorcana's lack of a competitive scene hasn't hurt it yet, as the TCG is extremely fresh and still swimming in the spotlight. Star Wars: Unlimited has the poor luck of arriving second and following in the tracks of one of its biggest competitors. Expectations will be high in either case, and the publisher is obviously betting on a lively competitive scene flocking immediately to its shores. Unfortunately, our early preview found the game performing solid in an environment that demands something both substantial and flashy.