Star Wars: Unlimited reveals flashy Hyperspace and Showcase card variants, along with booster pull rates
Here's how likely you are to find one of the Star Wars TCG's artwork variants.
Upcoming TCG Star Wars: Unlimited has revealed two new variants of its cards set in the galaxy far, far away, as well as detailing how often they're likely to show up in booster packs.
Unlimited was unveiled earlier this year as the latest collectible card game take on the ubiquitous movie franchise, blending together elements of Magic: The Gathering's popular Commander format and defunct card-and-dice game Star Wars: Destiny in a head-to-head fight to whittle your opponent's base down to zero health.
Ahead of Unlimited's planned release next year, publisher Fantasy Flight Games has detailed the contents of the TCG's booster packs, as well as showing off the artwork variants of its rarest cards.
Each Star Wars: Unlimited booster will include 16 cards, equal to the number found in a standard Magic: The Gathering booster and more than the dozen in a Disney Lorcana pack.
Among those 16 will be a leader card, which is used in a similar way to a commander in MTG by sitting outside of the player's main deck before having the ability to be brought onto the battlefield, and a base card, which determine which card colours can be included in your deck and display a familiar location from the films, but currently serve no additional gameplay purpose. On the reverse of each base card will be an experience or shield token, used to track the relevant gameplay resources during each game. (MTG boosters similarly have 15 'standard' cards, plus a token.)
The remaining 14 cards will be made up of a set spread of rarities: nine commons and three uncommons, along with one card of either rare or legendary status, then a final foil card that can be a holographic variant of any card of any rarity.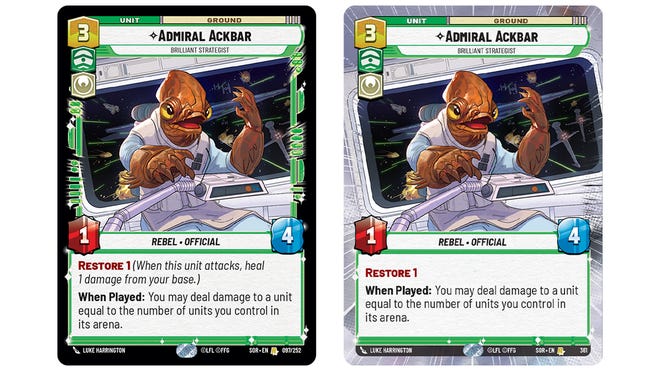 On top of the guaranteed foil is a chance to find one of Star Wars: Unlimited's rarest cards. Any one of the cards pulled from a booster could be a Hyperspace variant of the card, featuring an alternate art treatment with expanded artwork and a unique frame to Hyperspace cards. Hyperspace cards may also be foil cards.
The final variant revealed by Fantasy Flight are Showcase cards, which replace leader cards with a full-art variant of characters such as Luke, Leia and Darth Vader. Showcase cards combine alternate art, a unique frame treatment and a foil finish, and are said to be the rarest of Unlimited's card types. While leaders and bases can also be Hyperspace cards, along with any other card type, Showcase cards are limited to leader cards only.
Fantasy Flight confirmed that Hyperspace and Showcase cards are identical in terms of gameplay function and text to their standard variants.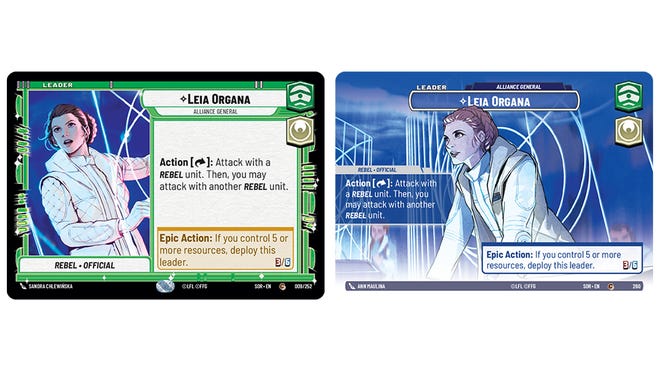 In terms of exact rarity, Fantasy Flight broke down pull rates for each of Unlimited's variants. One foil is guaranteed will appear in each pack, with legendary cards turning up in around one in eight boosters. Hyperspace cards of any rarity will show up in approximately two in three packs, with a Hyperspace rare or legendary card subsequently appearing in one in 15 packs. A foil Hyperspace rare or legendary card, meanwhile, will be far rarer at one in around 50 packs.
Showcase cards will be the rarest of all of Unlimited's variants, only showing up in approximately one in 12 booster boxes - each of which contains 24 individual booster packs, making their pull rate around one in 288 packs.
The publisher added that the booster packs had been designed with the intention of supporting draft and sealed play for Star Wars: Unlimited, allowing players and stores to run games solely using boosters.
Star Wars: Unlimited's first set, Spark of Rebellion, is planned to release in the first half of 2024.