The next Batman board game, based on the Dark Nights: Metal comics, twists the Caped Crusader into a terrifying villain
Team up with The Joker in The Batman Who Laughs Rising.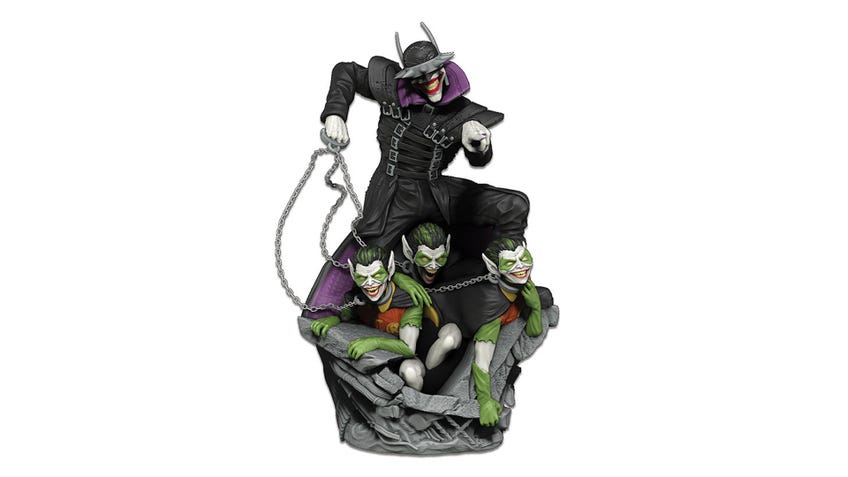 The DC multiverse has split wide open and its greatest superheroes must work together to defeat the scariest version of the Dark Knight yet in upcoming board game The Batman Who Laughs Rising.
Based on the Dark Nights: Metal comic book series, The Batman Who Laughs Rising introduces players to a disturbing villain who takes the form of the Dark Knight but seeks to spread chaos and fear. Emerging from a portal connecting the DC multiverse, The Batman Who Laughs begins terrorising the streets of Gotham with his armies of Dark Knights and Evil Robins.
Standing against this dark infiltrator is a team of superheroes made up of iconic characters - such as Wonder Woman, Hawkgirl, Green Lantern and the true caped crusader, Batman - who must come together to stop The Batman Who Laughs. As a co-op board game, The Batman Who Laughs Rising has one to four players taking turns as one of these superheroes in an effort to eliminate the forces of this imposter and save Gotham City.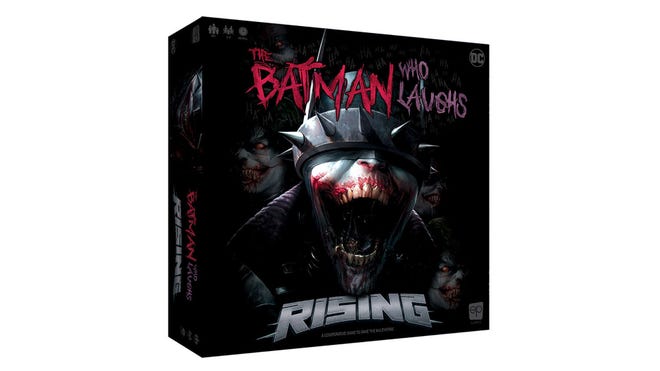 Each turn, players can choose to travel to one of several destinations and attempt to defeat the enemy waiting there by rolling the right dice result. However, to do this they must first survive an attack from The Batman Who Laughs, who will attempt to kill the player characters and further his schemes. Should they withstand the assault, players can attempt to recruit a variety of different allies to assist them: including Harley Quinn and The Flash.
Possible allies include Batman alter-egos from other universes such as The Merciless and The Dawnbreaker, as well as the clown prince of crime himself, The Joker. Players can choose to take on The Batman Who Laughs alone with a solo board game mode.
The Batman Who Laughs Rising is the latest in the Rising series of movie board games, following Star Wars: Dark Side Rising, Thanos Rising: Avengers Infinity War, Harry Potter: Death Eaters Rising and upcoming board game Spongebob: Plankton Rising.
The Batman Who Laughs Rising is being published by The Op, the company behind other licensed titles such as family board game Harry Potter: House Cup Competition, Disney board game Codenames: Disney Family Edition and the recently announced Risk: Warhammer 40,000.
The Batman Who Laughs Rising will be available sometime this autumn at a retail price of $49.99 (£40).