Get all four The Yellow King RPG books, plus its soundtrack, for under $18
A little green.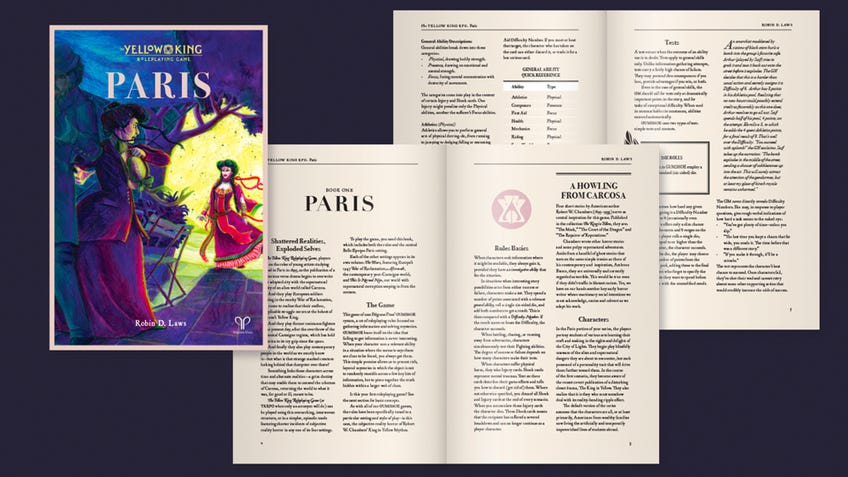 Horror RPG The Yellow King - based on the 19th-century short story collection by Robert W. Chambers that would later inspire HP Lovecraft's Cthulhu mythos - can currently be had for under $18 in the latest Bundle of Holding.
Kickstarted in 2017 and released early last year, The Yellow King RPG is powered by a variant of designer Robin D. Laws' Gumshoe system, previously used in roleplaying games such as Trail of Cthulhu. The system focuses on investigating and solving mysteries over combat, requiring players to roll a single six-sided die to resolve tests, with the ability to spend points from their ability pools to boost their results.
The Bundle of Holding includes all four books that make up The Yellow King's time-hopping, reality-bending setting, which ranges from investigating gargoyles, vampires and other supernatural beings in Paris to surviving the battlefield of an alternate-reality European war in 1947 and two different dimensions set in alternate versions of 2017: a post-civil war North America and an almost familiar reality affected by otherworldly happenings.
Connecting the varied periods and places are the effects surrounding the titular cursed play of The King in Yellow, the mysterious supernatural being that shares its name and the dread city of Carcosa.
The books include details on the settings, as well as the core rules, guidance on creating characters and a beginner adventure, Ghost of the Garnier. The complete set adds in a GM screen and cards to track shock and injury.
The Bundle of Holding is offering PDF versions of the $55 set, along with the six tracks in James Semple's accompanying atmospheric soundtrack The Yellow King Suite, for $17.95.
A second tier, priced at $28.20, adds in a collection of handouts for the game, Chamber's original The King in Yellow story collection annotated by game designer Kenneth Hite, novel The Missing and the Lost and another story collection, New Tales of the Yellow Sign. Separately, the additional books are said to be worth $56.
The Yellow King RPG Bundle of Holding will be available until July 19th, with 10% of proceeds benefiting poverty charity CARE International.