Get started with the modern reboot of sci-fi RPG Traveller for under $18
Pick up its epic campaign The Pirates of Drinax for a steal, too.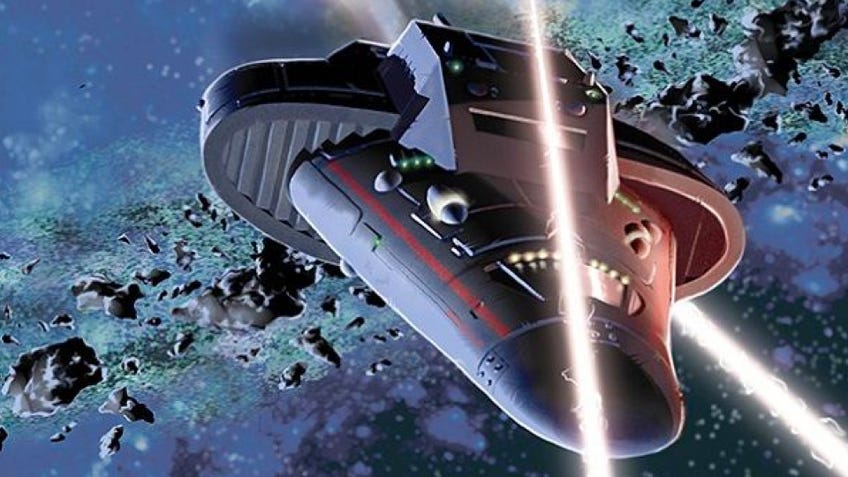 The second edition of Mongoose Publishing's modern reboot of classic sci-fi RPG Traveller can currently be picked up for a fraction of its usual cost as part of the latest Bundle of Holding.
Mongoose Traveller 2E - previously known as New Traveller - was released in 2016, following the publisher's first edition released in 2008 that updated the original Traveller RPG from the 1970s. Using Classic Traveller's 2d6 system as its foundation, the revised ruleset also looked to expand on the original game's rules and modernise them, making it easier for newcomers to jump on board.
The Mongoose Traveller 2E Bundle of Holding includes the core rulebook for the latest edition of the much-loved sci-fi RPG, serving as a starter set with a beginner adventure and the basics of how to play, along with the Traveller Companion - which adds extra rules for GMs and players - and the equipment-stuffed Central Supply Catalogue 2E for $17.95, knocking over $80 off the books' combined $100 RRP.
The $27.95 Referee Collection includes those beginners books alongside the major High Guard expansion, which includes details on creating ships, flying them around the galaxy and engaging in space combat. The vehicular focus continues in the included Traveller Vehicle Handbook, which features information on a variety of planetary craft. That price will also get you six of Mongoose Traveller's Referee's Briefings - short supplements with additional information on various parts of the setting, from companies to potential encounters - and a screen for the game's GM-like Referee for a total combined value of over $200.
Bundle of Holding currently has another separate offer on Mongoose Traveller's Traveller Pirates of Drinax campaign, which offers all three of the volumes that make up the epic ten-part adventure - totalling almost 600 pages - for $12.95, almost a quarter of its $50 RRP. That price will also bundle in the first three of the game's Reach Adventures, scenarios set in the universe's Trojan Reach; Marooned on Marduk, Theories of Everything and The Calixcuel Incident usually cost around $27 combined.
Step up that price to $26.17 and you'll also grab a bonus collection comprising the Drinaxian Companion compilation of pirate-themed supplements, three extra Reach Adventures - Last Flight of the Amuar, The Borderland Run and Exodus - and the three-part Shadows of Sindal campaign, which takes place against the backdrop of Pirates of Drinax.
The bundles will be available until June 21st, with any buyers receiving DRM-free PDF versions of the books.