Warhammer Plus announces an August release date with a free miniature to subscribers
Premium app also includes back catalogue of White Dwarf issues.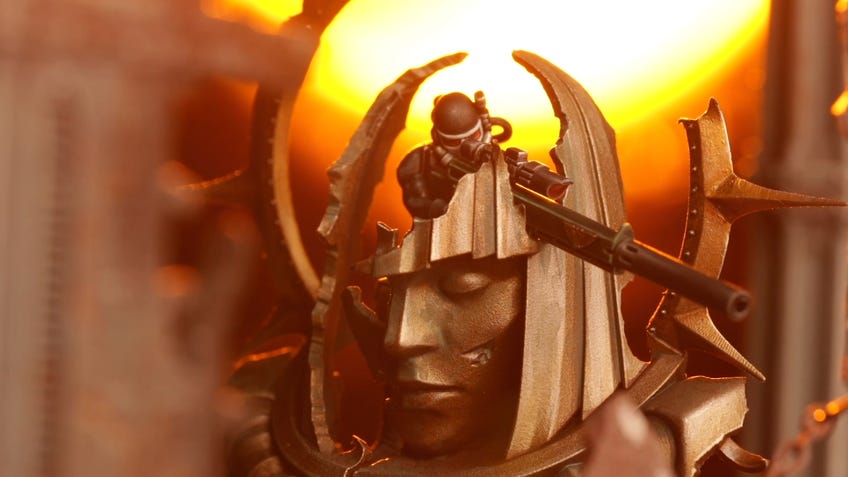 The Warhammer Plus subscription plans to go live on August 25th, and publisher Games Workshop has detailed what miniature wargame players can expect to enjoy from the premium service at launch. Alongside the previously announced animations (or at least two of them) will be instructional videos from the Warhammer Community team and the promise of a free miniature shipped out after one year of service.
The service will cost £4.99 ($5.99) a month or £49.99 ($59.99) for those who spring for the annual subscription. Once paid, players can choose between two miniatures that Games Workshop characterized as a thank you present: the Vindicare Assassin or the Orruk Megaboss. The models will be shipped "around the one-year anniversary" of the initial subscription date. Those who keep their subscription active can expect another free model each successive year.
The company is of course offering the other choice as a purchase from their online store around the time of shipping - August 2022 for the Warboss and Assassin.
Two animated series from the previewed lineup will be available to watch at launch. The first few episodes of both Angels of Death and Hammer and Bolter will provide a perhaps smaller batch of content than many were expecting - the several other series are seemingly still in production and will be released later. New episodes will be made available on the app "almost every Wednesday", according to Games Workshop. Exact dates and times regarding the shows not yet on the app were not provided.
That doesn't mean there won't be anything to watch, as Warhammer TV will offer how-to and instruction videos, such as the Citadel Colour Masterclass' guides to advanced miniature painting techniques and Loremasters' positioning as the official outlet for the two games' complex and sometimes consternating history and mythology. Finally, a Battle Report for both Age of Sigmar and 40,000 plans to showcase full matches between armies on the tabletop.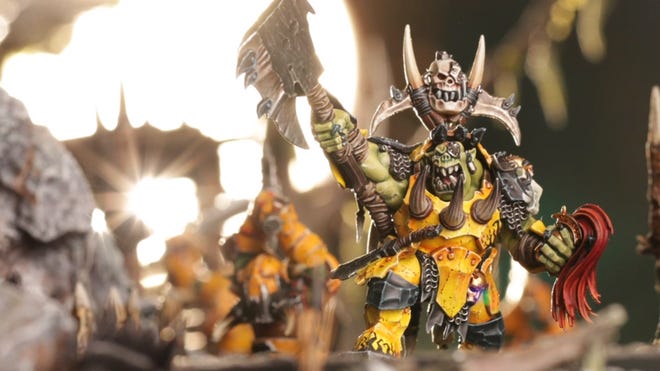 As previously announced, Warhammer Plus will be folding in access to Warhammer 40,000: The App, which provides players with army builders, rules references and managing tools. A similar app for Age of Sigmar is in the works, and subscribers will apparently get "premium-tier access" to existing and future features of both apps. Those who already pay for the Warhammer 40,000 app can upgrade their subscription and receive that free model three months earlier as an extra incentive.
The Warhammer Vault will house digital versions of previously released Games Workshop books that players can read. Both 40,000 and Age of Sigmar will have a selection of supplements, adventures and reference books to peruse, alongside White Dwarf's 2020 back catalogue. Games Workshop said it plans to add more books and issues of the long-running miniatures magazine every week.