Warhammer Quest: Cursed City reveal trailer shows off the dungeon-crawler's models and boards
Ulfenkarniverous.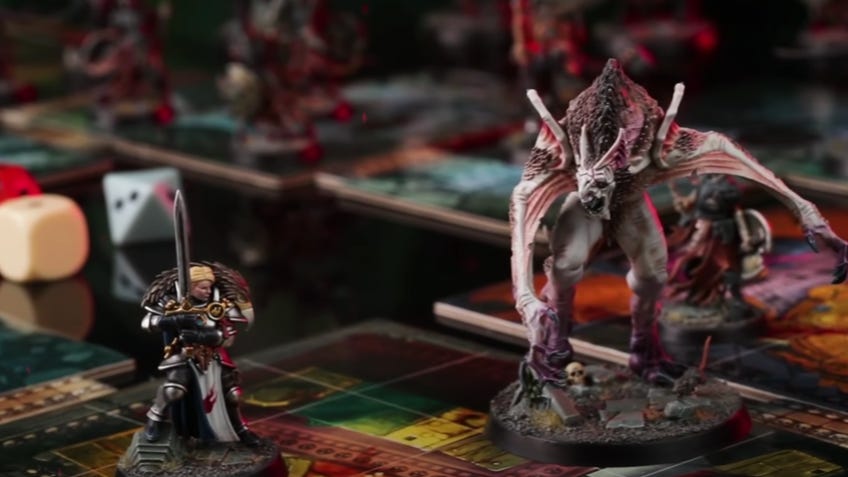 Warhammer Quest: Cursed City, the upcoming board game based on the Age of Sigmar universe, has received a new trailer revealing its models and game boards.
The short trailer shows off several of Cursed City's various miniatures, including Emelda Braskov - a vampire hunter whose army was devastated by Radukar the Wolf - facing off against a gigantic bat-like monster that could be Radukar in his beast transformation.
Another character from the dungeon-crawling game, Cleona Zeitengale, makes an appearance in the trailer, alongside several of her allies, such as scholar Octren Glinscry, disgraced witch-hunter Jelsen Darrock, opportunistic trader Dagnai Holdenstock, arrogant duellist Glaurio ven Alten III and determined archer Qualathis the Exile.
Miniatures for Cursed City's villainous characters are also revealed in the trailer, with the rotting remains of Watch Captain Halgrim, Vyrkos Blood-born - a member of Radukar's Thirsting Court - and Gorslav the Gravekeeper taking the spotlight alongside several of their undead minions. The new trailer contains shots of various other models - such as skeleton warriors and bat monstrosities - as well as images of Cursed City's game boards and dice.
Announced in a livestream event last month, Warhammer Quest: Cursed City is the newest entry in the series of board game titles based within the Warhammer: Age of Sigmar setting. Cursed City will see players entering the location of Ulfenkarn, which used to be ruled by three noble scions before it was invaded by the armies of the undead. Now a husk haunted by vampires, necromancers and living skeletons, Ulfenkarn sees the arrival of the Agents of Defiance who are determined to clear the city of its deadly inhabitants.
The Agents of Defiance, made up of eight possible characters, will be tasked with defeating the five Overlords who command the armies of the undead in Ulfenkarn. Each Agent of Defiance has their own unique set of abilities and equipment that players can utilise against the forces of evil, working together in the co-op game to overcome the Overlords and restore peace to Ulfenkarn.
Warhammer Quest began in 1995 as a spiritual successor to HeroQuest - the fantasy dungeon-crawler that recently saw a revival with a new edition due for release later this year - set within the universe most commonly associated with Games Workshop's miniatures game. Eventually, the Warhammer Quest series went on to receive three more entries set in both the classic Warhammer Fantasy and Age of Sigmar franchises, before the announcement of Cursed City this year.
There is currently no confirmed release date for Warhammer Quest: Cursed City, with retail pricing also yet to be determined.