Board game classic HeroQuest is being relaunched with a crowdfunded new edition
More than 30 years since the original was released.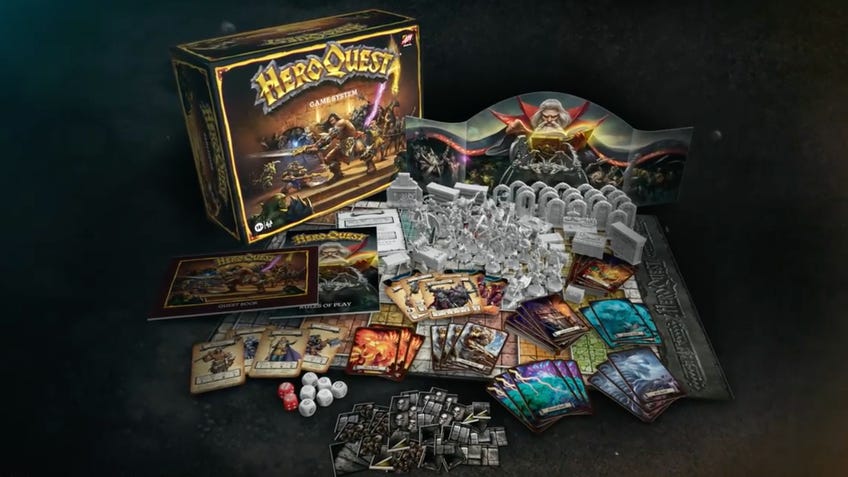 HeroQuest is back. More than 30 years since the influential dungeon-crawler was first released, the classic board game is seeing a modern reboot courtesy of a crowdfunded new edition from publisher Hasbro.
Revealed at the end of a week-long countdown, the new HeroQuest is a mostly-faithful remake of the 1989 board game being crowdfunded via Hasbro's own answer to Kickstarter, HasLab. The campaign aims to raise $1 million by November 6th - if it fails to reach that target, the game won't enter production.
While the upcoming re-release of HeroQuest - which has remained hard to find and costly to acquire for decades due to a lack of reprints - largely recreates the original, it does feature some changes. One addition is the inclusion of a female elf character in place of the original's all-male party, as well as female orcs and goblins for the party to encounter. The crowdfunded edition will include both male and female sculpts for all four of the game's player characters as bonus miniatures exclusive to the campaign.
A noted by Polygon, other changes move the new game's lore and visuals away from the Warhammer universe; while the original HeroQuest was co-published by family board game company Milton Bradley and Warhammer maker Games Workshop - something that sequel Advanced HeroQuest cemented further - the upcoming reboot is solely published by Hasbro label Avalon Hill. Aside from those alterations, the game faithfully recreates the look and gameplay feel of the eighties original, including its iconic 3D terrain and dozens of miniatures.
HeroQuest's crowdfunding campaign is offering the board game for $99.99 as part of a 'Heroic' base tier, with the option to step up to $149.99 in a 'Mythic' tier. The higher tier adds in remakes of original HeroQuest expansions Return of the Witch Lord and Kellar's Keep, as well as extra bonus miniatures. Further stretch goals are due to be unlocked during the course of the campaign, which will only be included with the Mythic-tier edition of the game. The game is currently only available for those in the US and Canada.
If the HeroQuest crowdfunding campaign reaches its $1 million target, the game is expected to arrive with backers next autumn and will be followed by a retail release in late 2021.