Yu-Gi-Oh! 2023 release schedule: Every upcoming core booster, structure deck and set
Get set for a year packed full of nostalgia and exciting new releases as the TCG marks its 25th anniversary.
Looking ahead to the upcoming slate of 2023 Yu-Gi-Oh! releases, an exciting blend of nostalgia and forward-thinking releases looks set to mark the trading card game's 25th anniversary milestone in style.
This new collection of releases will introduce new archetypes and play styles that will make your deck more powerful than ever - or, like a kid wandering down the aisles of Toys R Us, disappointed after failing to pull a secret-rare copy of Kaiba's legendary Blue-Eyes White Dragon.
Yu-Gi-Oh! release dates 2023
Amazing Defenders - January 19th
Photon Hypernova - February 9th
Beware of Traptrix - February 23rd
Maze of Memories - March 9th
Speed Duel GX: Duelists of Shadows - March 30th
Legendary Collection: 25th Anniversary Edition - April 20th
Cyberstorm Access - May 4th
Legend of Blue-Eyes White Dragon, Metal Raiders, Spell Rulers, Pharaoh's Servant and Invasion of Chaos reprints - July 13th
With the standard four core boosters alongside new decks, Speed Duel sets and classic reprints, Yu-Gi-Oh!'s 2023 release schedule looks set to be the TCG's busiest year ever.
If you're wondering what to expect from these releases, read on to discover everything awaiting you in 2023 in this seminal year for the Yu-Gi-Oh! Trading Card Game.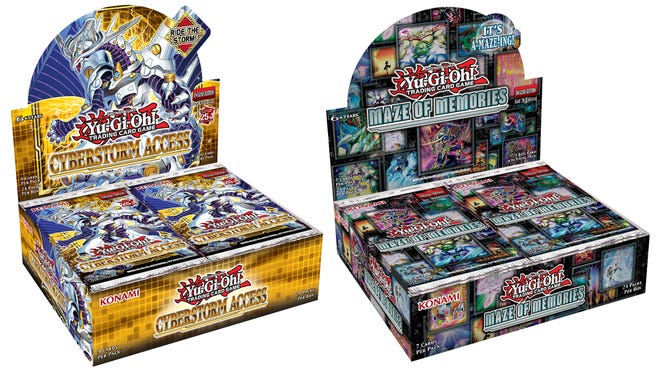 ---
Yu-Gi-Oh! Core Boosters 2023
As ever, the biggest names in the 2023 Yu-Gi-Oh! release schedule are the core boosters. These sets introduce major new archetypes to the game with the power to flip the meta on its head, and remain the tentpoles of the Yu-Gi-Oh! calendar.
Photon Hypernova
Release Date: February 9th
Out now in the Japanese market, Photon Hypernova makes its jump to the TCG in February with a slew of support for popular archetypes like Spright and the trap deck Labyrnth, alongside older anime fan-favourites like Photon and Galaxy and a slew of Chaos monsters.
Most notable in this set is the major support given to the Kashtira archetype, with an all-new boss monster in Kashtira Arise-Heart and searcher in Papiyas. Also making its worldwide debut in the set is the Gold Pride horse racing-inspired archetype - yet despite the cool premise it's hard to look beyond the potential of Kashtira when anticipating this new release.
Cyberstorm Access
Release Date: May 4th
Tellarknights are the star of this second core booster set, bringing with it new support for the beloved older archetype with the potential of returning the deck to its meta-destroying heyday.
However, it's the Extra Deck that is the star of the show, with Fusion Summon support for the unique Visas Starfrost monster introduced in last year's Dimension Force and a difficult-to-summon but difficult-to-overcome Link-6 Firewall Dragon evolution monster, a blessing to any Cyberse player.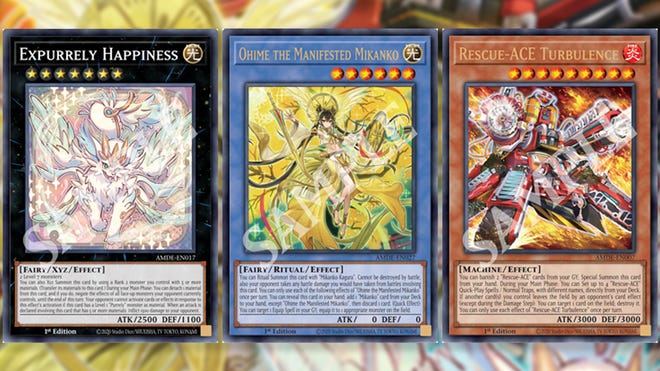 ---
Yu-Gi-Oh! 25th Anniversary releases 2023
It has been 25 years since the official launch of the Yu-Gi-Oh! Trading Card Game, and there are a number of special booster packs and releases marking this milestone in the history of the TCG. Even if these sets are primarily nostalgic looks back on card gaming history, these reprints are still welcome.
Maze of Memories
Release Date: March 9th
This 67-card set collects tournament- and era-defining cards from across Yu-Gi-Oh! history and even the modern meta into a single release.
You have Yugi's iconic Ritual Summon monster Black Luster Soldier - Legendary Swordsman, for example, and a reprint of Baronne De Fleur for the first time since its initial 2021 printing. That printing in particular is sure to be welcomed by those seeking a cheaper way to add it to their Extra Deck!
Legendary Collection: 25th Anniversary Edition
Release Date: April 20th
For those that have been fans since the beginning of the Yu-Gi-Oh! card game, this set will prove to be a nostalgic gold-rush. Reprints of the original non-legal Egyptian God Card promos are here alongside Dark Magician, Blue-Eyes White Dragon and Red-Eyes Black Dragon.
Alongside a random card in a new Quarter Century Secret Rare rarity, perhaps even more exciting is the inclusion of a single pack of Legend of Blue-Eyes White Dragon, Metal Raiders, Spell Rulers, Pharaoh's Servant and Invasion of Chaos, the original packs that defined the early era of Yu-Gi-Oh!...
Legend of Blue-Eyes White Dragon, Metal Raiders, Spell Rulers, Pharaoh's Servant and Invasion of Chaos reprints
Release Date: July 13th
…which will also be sold separately at a later date. For those not after the more extravagant Legendary Collection release, reprints of individual boosters of the first five sets ever released in English for the Yu-Gi-Oh! Trading Card Game will be sold. Maybe this time that Legend of Blue-Eyes White Dragon pack you buy from your local store will include Kaiba's signature monster you failed to own as a kid.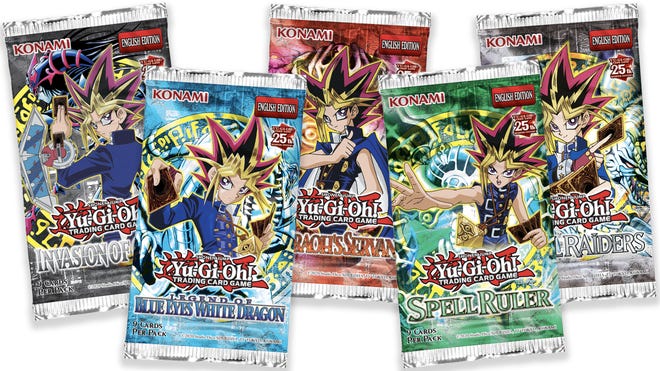 ---
Yu-Gi-Oh! Structure Decks 2023
Structure decks provide an accessible entrypoint for new players with a tournament-ready deck, complete with staple spell and trap cards and a supportive extra deck. Often these decks bolster the offerings of fan-favourite archetypes, as seen with last year's Dark World deck and this year's Traptrix deck.
Beware of Traptrix
Release Date: February 23rd
Becoming a fan-favourite ever since their initial debut in Judgement of the Light, the anime girl personification of Trap Hole and its associated archetype developed around these cards will receive their own structure deck in February. Beyond its share of reprints, expect cards like Traptrix Pinguicula (name TBC) that debuted in the Japanese edition of this deck to make their English-language debut.
---
Other Yu-Gi-Oh! releases 2023
Beyond Konami's 25th anniversary celebrations and the regular rotation of core sets, a rotation of Speed Duel and secondary sets provide a stop-gap between larger releases, offering reprints and new archetypes with unique twists on the duelling formula.
Amazing Defenders
Release Date: January 19th
This mini-set marks the first major release of 2023 for Yu-Gi-Oh!, and brings with it the debut of three all-new archetypes: the heavenly cats and dogs of Purrely, the Japanese dance-inspired Mikanko, and the emergency vehicle-inspired Rescue-ACE team. With this variety at least one archetype should provide visual appeal, even if each set must wait for the first core set of the year to reach their full potential.
Speed Duel GX: Duelists of Shadows
Release Date: March 30th
If you're a Speed Duel player, there is one new set currently announced by Konami to bring new players into this alternative dueling style. Each box includes eight pre-constructed decks based on characters from Yu-Gi-Oh! GX with selectable skill cards for a group of friends to jump immediately into matches, no preparation required. For collectors, eight secret rare cards are also included, of which three are Speed Duel-compatible versions of the Sacred Beasts.