A Rare Yu-Gi-Oh card prompts exorbitant bidding on a now-cancelled Chinese court auction
Serving Time Wizard.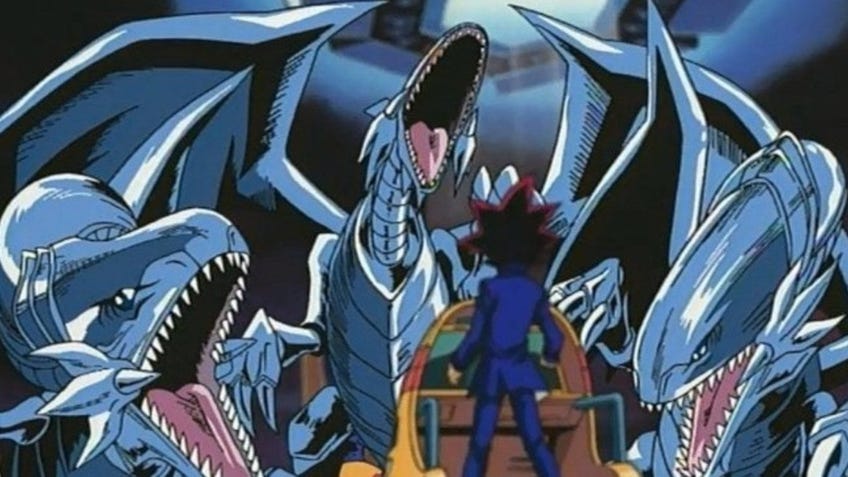 Collectors of the long running and popular trading card game Yu-Gi-Oh are being blamed for the cancellation of a Chinese court auction containing a rare Blue Eyes White Dragon card among the possessions seized from an inmate sentenced for embezzlement.
IGN reported a story first published by the South China Morning Post, which said the public bidding on the auction skyrocketed to 87 million yuan (£9.6 million/$13.4 million) before officials in the Anhui province's Chuzhou court canceled it on June 21st.
Among the possessions of Zhang Yujie, currently serving life in prison for embezzling 70 million yuan (£7.8 million/$10.8 million) from a government fund he managed, was a gold and diamond-decorated Playstation 4 console, several Nintendo Switch consoles and a Blue Eyes White Dragon card in a commemorative frame celebrating the 20th anniversary of the Yu-Gi-Oh Official Card Game. Apparently, only 500 of these cards were printed in 2019, each valued between £22-33,000 ($31-46,000).
Bidding on the lot started at 80 yuan (£8/$12) but reached the reported millions within an hour and was quickly shut down. "The price is seriously inconsistent with the actual bidding price, and malicious bidding behaviour is suspected," the Alibaba online platform said in a statement.
The fact that the bidding outstripped even the top value of the Blue Eyes White Dragon card lends credence to this theory. Over 18,000 individuals placed bids on the lot, and more than 2 million others were reportedly watching the auction unfold online.
Yu-Gi-Oh cards might not have reached the dazzling price highs of either Pokémon or Magic: The Gathering, but the price tag on that Blue Eyes White Dragon would definitely give it contender weight if paired against some of the most rare and valuable trading cards out there. Parent company Konami likely doesn't appreciate being at the center of an embezzlement criminal's auction gone wrong, nor is it clear if we can expect a statement from them or new official ambassador Antoine Griezmann - yes, the football player.