Yu-Gi-Oh! TCG to revamp starter decks and release two new sets by end of 2023
Calendar full of cardboard.
Three new ways to get into the Yu-Gi-Oh! Trading Card Game were just announced by publisher Konami, including a refresher on the starter deck experience and cards brought overseas from Japan for the first time.
Age of Overlords will be an core booster set containing 100 unique cards themed around Horus and bringing creatures back from a player's graveyard. Supreme King Z- ARC, for example, is an older card with a visual and mechanical upgrade that include a brand-new form.
Meanwhile, Visas Starfrost's journey that began in Dimension Force will continue to support her archetype largely with several new monster cards that stretches pretty high up the card level scale. Age of Overlords is currently planned to launch on October 20th of this year and will be available in all the usual ways fans purchase Yu-Gi-Oh! Cards.
Watch Wheels attempt to parse the digital version of Yu-Gi-Oh! on its now well established track.

A new 2-player-set will hopefully succeed in its goal of converting new and interested players into the fold. The included instruction book is formatted like a comic and provides a step-by -step tutorial that isn't scripted. Each deck contains 44 cards and is designed to introduce those duelists who can't tell a Synchro Beast from a Pendulum Summon. These decks should be available to purchase later this year.

The final announcement will likely excite avid collectors most of all as Konami prepares a 25th Anniversary Rarity Collection to launch some time in November of 2023. Many of the cards in the set's 79 have never been printed or distributed in the US before now. All pieces will be printed in foil and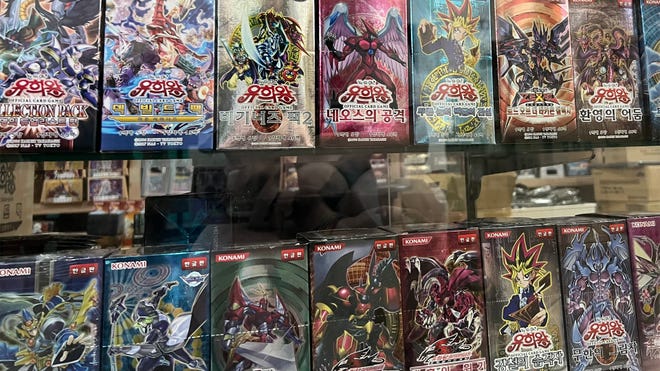 Like Magic: The Gathering's collector boosters, this set leans hard into rarities and card treatments, going so far as to invent a pair of new rarities - Prismatic Collector Rar and Prismatic Ultimate Rare. Fan favourites such as Blossom & Joyous Spring, Nibiru, The Primal Being and Pot of Prosperity will rear up their heads among these 79 specialty booster packs.
Yu-Gi-Oh! TCG is also banking hard on both collectors and normal players rushing out to purchase the Rarity Collection's booster packs, which might contain anywhere from 1-3 "luxury rares" amongst the others. All of this is happening during the search for a seriaised The One Ring card that might be worth $2 million, largely by purchasing and chain-opening the expensive collectors booster boxes. Where this course of action leads is yet to be seen. While Yu-Gi-Oh! doesn't demand the same market size as Dungeons & Dragons, a push towards collectibility means the folks making decisions within Konami already have a good idea near the beginning of the day.