Monty Python's Flying Circus collides with Zombicide in the co-op game's latest expansion
It's getting out of spam.
A new expansion themed around Monty Python's Flying Circus is coming to the Zombicide board game series.
Based on the beloved comedy sketch television show, Monty Python's Flying Circus – A Rather Silly Expansion is an upcoming game expansion for co-op zombie-fighting board game, Zombicide: Second Edition. Featuring a set of brand-new characters inspired by sketches from the classic English comedy troupe – as well a collection of equipment and an entirely new mission – A Rather Silly Expansion requires players to have a copy of the core Zombicide: Second Edition board game.
The expansion features a group of six playable characters, each one based on a different character played by a member of the Monty Python troupe.
A trailer for Monty Python's Flying Circus – A Rather Silly Expansion for Zombicide: Second Edition.
Arthur Nudge's, inspired by the character played by Eric Idle in the Nudge Nudge sketch, obsession with innuendos translates into an ability that allows him to give other characters a free action on his turn. The Fish Slapper – played by John Cleese in The Fish Slapping Dance sketch – brandishes his enormous fish against nearby zombies whenever he receives friendly fire. The LumberJack, originally portrayed by Michael Palin in The Lumberjack Song sketch, can sing to other players to enable them to perform the same action as he does.
Terry Jones' Arthur Ewing character – found in the musical mice sketch – can command his musical mice to assist his fellow survivors in killing zombies. The Colonel, a character played by Graham Chapman in multiple sketches, can employ his disdain for silliness to force approaching zombies to stop. Finally, Terry Gilliam's raw chicken-wielding knight can motivate his fellow survivors by whacking them over the head with said chicken.
Besides the new playable characters, the A Rather Silly Expansion comes with new enemies for players to fight in the co-op board game, also based on characters from Monty Python's Flying Circus. The Silly Walkers – made famous by the Ministry of Silly Walks sketches – move unpredictably thanks to their preference for walking silly. Meanwhile, The Spanish Inquisition, known for their appearances in various sketches in the show, will spawn unexpectedly thanks to their unexpected nature.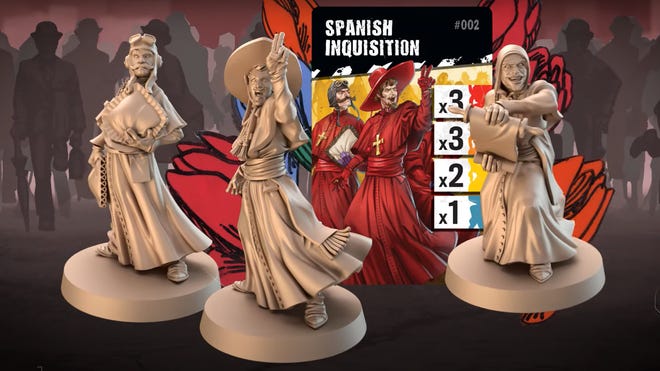 The expansion contains a collection of new abominations, tougher enemies than standard zombies, for players to challenge, each based on characters from various notable Monty Python sketches. From Hell's Grannies – who leave destruction in their wake – to the unexpectedly deadly Undead Parrot to the Fish-Slapping Dancer, Nude Organist and the iconic giant foot.
The Monty Python's Flying Circus – A Rather Silly expansion is set to be published by Cmon, the studio responsible for releasing Zombicide: Second Edition, as well as several other co-op games like Marvel United and Sheriff of Nottingham: Second Edition.
The release date for The Monty Python's Flying Circus – A Rather Silly Expansion is set for April 2024, with the title being available at a retail price of $50 (£40).